« Obituaries | Sarah Bernard
Sarah Bernard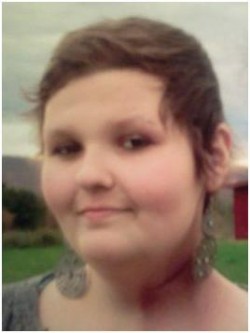 Date of Death: May 14, 2014
Date of Birth: February 28, 1996
Biography:
Sarah Bernard, 18 of Greene, Maine died May 14 at Barbara Bush Children's Hospital at Maine Medical Center in Portland.
She was born in Lewiston on February 28, 1996  to parents Roland Bernard and Tina Terenzoni of Greene
Sarah was a senior at Leavitt Area High School and she was able to get her high school diploma while battling her illness of 3 years.  She enjoyed playing video games, watching movies and hanging out with her family and friends.  She was very courageous throughout her illness, never complained and was loved by many.  Her best friend, Shayla Lapierre was there to help and support Sarah.
She was predeceased by her paternal grandparents  Robert and Yolande Bernard
Sarah is survived by her father-Roland Bernard, mother-Tina Terenzoni, sister-Amber O'Leary & niece Emma Clark, Maternal grandparents:  Ted and Edie Terenzoni of Greene. Aunts:  Denise Kaufman of Greene, Louise and her husband John Tammaro of Falmouth and their daughter Megan.
Aunt:  Elaine Terenzoni of Sabattus. Uncles: Keith Terenzoni, Mark Terenzoni, Scott Terenzoni, Brian Terenzoni, and Kevin Terenzoni
A church service will be held on Friday, May 23rd at 5 p.m. at the East Auburn Baptist Church, 560 Park Ave, Auburn. A celebration of life will follow the church service at Sundown Entertainment Center, 14 Wales Road in Sabattus  
In Lieu of Flowers:  please consider a donation in Sarah's name to the Barbara Bush Children's Hospital
22 Bramhall Street, Portland, Maine  04102