« Obituaries | Jeanne Cadigan Berlew
Jeanne Cadigan Berlew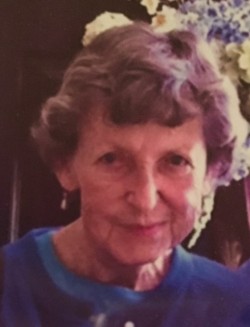 Date of Death: April 8, 2016
Date of Birth: July 11, 1930
Biography:
Topsham, ME - Jeanne Cadigan Berlew passed away peacefully at the Cadigan Lodge at the Highlands in Topsham Maine on April 8, 2016, surrounded by her husband King and her two children, Derek and Sarah.  Jeanne was born in Mount Vernon, New York on July 11, 1930, grew up in Bloomfield Hills, Michigan, and graduated from Wheelock College, Massachusetts in 1952.  Jeanne married her husband, F. Kingston Berlew, that same year and they began a 64 year adventure travelling and living all over the world.
Jeanne was a surrogate mother to dozens of young Peace Corps volunteers from 1962-64, providing comfort, counsel, and transportation, while King Berlew served as Peace Corps Director in Pakistan.  While in a new and challenging environment with many added tasks she remained an incredibly loving and caring mother to her two young children.
When King was reassigned to Peace Corps Headquarters in Washington DC as Associate Director in 1964, Jeanne started the Head Start program in Glen Echo Heights, Maryland.
Jeanne and King moved their young family from Pakistan to Maryland to London to Brussels to Connecticut and back to London again where their two children, Derek and Sarah, graduated from High School.
Jeanne and King finally set down roots in York, Maine in 1976 where they lived happily for 30 years.  While King ran an International consulting business and later, practiced law with two prominent Boston law firms, Jeanne became very active in the community.  She managed the York Hospital Gift Shop as a volunteer for many years; she had an excellent flair for buying and was a cheerful and loved addition to the Hospital community.  Jeanne was also very active in the York-Ogunquit church heading up the much anticipated jewelry table at the Christmas fair.  Buyers would swarm to her table first and each year she brought in a terrific donation to the church. She was also a member of the York Golf and Tennis Club, serving in a number of administrative roles.
Jeanne was a natural athlete.  She played field hockey, golf, bowling, and tennis. Jeanne bowled many a 200 plus game and played golf well into her 80's.  She was a particularly talented tennis player who regularly played with and beat younger players both in London, England and York, Maine.
Jeanne was a very strong woman who survived breast cancer, neck, cancer, congestive heart failure, and a number of surgeries.  She had been unable to eat or drink for the past eight years, having to feed herself through a tube with the able assistance of her devoted husband.  She handled this with grace and never complained.   She would entertain and cook and go out to dinner with friends and family even though she was unable to eat or drink herself.
Jeanne was a loving and caring friend to many who would come to her to talk about their struggles in life.  She was always there to listen and give comfort day or night.
Jeanne is survived by her husband, King Berlew of Topsham, ME, her son Derek of Wells, ME, her daughter Sarah of Brunswick, ME, her sister Judy Pace of Wesley Chapel, FL, and her brother Richard Cadigan of  De Soto ,Texas.
A Memorial Service will be held for family and friends at the United Methodist Church of York-Ogunquit, 1026 US Route 1, York, Maine at 1 PM on Saturday, May 14, 2016.  This will be followed by an informal reception at the Old York Country Club. 62 Organug Rd. York, Maine
In lieu of flowers please make contributions to Habitat for Humanity, 126 Main St. Topsham, ME 04086, The Carter Center Attn: Office of Development • One Copenhill • 453 Freedom Parkway Atlanta, GA 30307, or the Volunteer Associates of Bangladesh by visiting vabonline.org/donation.aspx. Arrangements are under the care of Funeral Alternatives 155 Bath Rd. Brusnwick, ME www.funeralalternatives.net