« Obituaries | Roland O. Bennett
Roland O. Bennett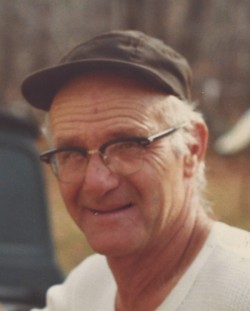 Date of Death: March 2, 2014
Date of Birth: October 31, 1923
Biography:
Buckfield- Roland O. Bennett, 90, of Buckfield, died peacefully at home with his wife Beverly at his side, on March 02, 2014. 
Born October 31, 1923, he was the son of Paul and Blanche Bennett.  He lived his entire life in Buckfield.  He worked on the family dairy farm with his brothers until May 1, 1955.  He liked to tell his children and grand children that he milked 9 cows every morning before school, which he contributed to his genial good nature.  He was class president his freshman and senior years of high school, president of the Future Farmers, and Student council.  He was active in debating, winter sports team, business manager Nezinscot Wave and class historian.  His musical talent from high school lasted his entire life.  He played trumpet in the Parisien Orchestra in Western Maine for 50 years playing Big Band tunes from the 30's, 40's and 50's; singing these tunes to the end.
After losing his farm in a fire in 1954, he, his wife, and 5 children moved to Bumpus Farm.  He left the family dairy farm, bought an ax, and went to work in the woods to support his family.  He worked in the business for the remainder of his life.  He loved work and the outdoors, and was an avid reader.
He married Beverly Gammon in 1946, and they were married for 67 years.
In 1984, Roland and Beverly toured the U.S.; just under 10,000 miles, in a VW bus; a trip they so enjoyed.
Roland had a great love for horses and harness horse racing.  He and his brothers raised, trained, and raced several race-horses.  His favorite was a beauty named Baden's Ray.  He had a great love for all his children and grandchildren.
He is survived by his wife Beverly and his seven children; Steven and his wife Judith, Daniel, Susan, Andrew and his wife Joann, Edwin, Valerie, Seth and his wife Joni, 14 grandchildren, 16 great-grandchildren, great great-grandchildren with a great-grandson due in June, an aunt; Elsie Buck Knightley, four sisters-in law; Gladys Bennett, Barbara Bennett, Ruth Tucker, and Virginia Hanson, many nieces, nephews and cousins.
He was predeceased by his parents Paul and M. Blanche Buck Bennett, his brothers Stanley and his wife Agnes, Gerald and his wife Mary, Mason, Paul, and sisters Marjorie Ruegg and her husband Arnold, and Katherine Lawson, sister-in-law Eleanor Hanson and her husband Robert, brothers-in-law John Tucker, and Howard Hanson, and a grandson Daniel Warren Bennett who died in 2000.
At the request of the deceased, there will be a graveside service held in the spring.
In lieu of flowers, donations may be made to Maine Harness Association, 185 State St., Augusta, ME  04332 or Androscoggin Hospice Homecare, 15 Strawberry Ave., Lewiston, ME  04240.