« Obituaries | William A. Bellevue
William A. Bellevue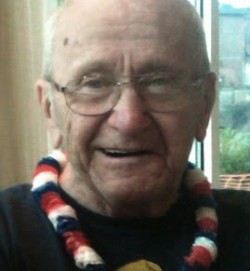 Date of Death: May 31, 2014
Date of Birth: July 17, 1932
Biography:
William A. Bellevue, 81, of Auburn Maine, died on Saturday May 31, 2014, at Hospice House in Auburn following a short illness.
He was born in Danvers, Massachusetts, on July 17, 1932, to Albert and Ellen (Manning) Bellevue. He attended Danvers schools.
He enlisted in the US Air Force at the age of 17 and served during the Korean War as an aircraft mechanic. He was honorably discharged in 1953 as an Airman First Class.
He married Margery Ann Baldwin on February 15, 1958.
They moved to Groveland in 1965 to raise their family. He will be remembered by many as the Boston Globe delivery driver in Groveland, where he also taught 2 of his children how to drive at 3 in the morning. He worked for 25 years at Raytheon in Andover, Massachusetts, before retiring in 1994, and moving to Mount Pleasant, South Carolina. There, they enjoyed 13 years of nice weather and entertained many visitors, especially family and their grandchildren. He was always the tour guide for all things "Charleston". A tour to the Angel Oak was always offered and accepted. He loved to go to the pier and watch the ships and fishermen. Upon moving back up "North", they settled at Schooner Estates in Auburn, where they made many friends. He enjoyed going out to lunch with his friends and sitting on the porch and solving the worlds' problems with his buddies. He will be missed by all.
He was a Little League coach for many years. He was a member of the Raytheon Management Club and Raytheon Golf League. He was a member and Deacon at the Groveland Congregational Church.
He is survived by his wife, Margery, of 56 years; his son Chris and wife Aggie of Auburn, daughter Beth and her wife Marcie of Derry, NH, daughter Amy of Auburn; Granddaughter Julianne Bellevue and Fiancé Dean Smollar of Los Angeles, CA, grandson Benjamin Bellevue of Auburn, and grandson Kyle Zingo and wife Lisa of Orange, VT; two great-grandchildren Ava Zingo and Hayden Zingo of Orange, VT; two sisters Lois Bolduc and husband Norman of Danvers and Ruth Osgood of Woburn; as well as many nieces and nephews.
He was predeceased by two brothers, Donald Bellevue and George Bellevue and a grandson James Christopher Bellevue.
The family would like to thank the wonderful staff at St Mary's Hospital and Hospice House, who were especially kind and helpful. They would also like to thank his doctors, Ken Brodsky and Roger Austin, for their help and compassion.
A Celebration of Life will be held at 2 PM on Thursday, June 5, 2014 at Schooner Estates 200 Stetson Rd Auburn, ME in the Tenants Harbor Room. Another Celebration of Life will be held in Groveland Massachusetts at a later time to be determined.
In lieu of flowers, the family suggests a donation to The Androscoggin Hospice House 236 Stetson Rd. Auburn, ME 04210, or to The Schooner Estates Tenants' Christmas Fund at 200 Stetson Rd, Auburn, ME 04210.