« Obituaries | Reno J. Bell
Reno J. Bell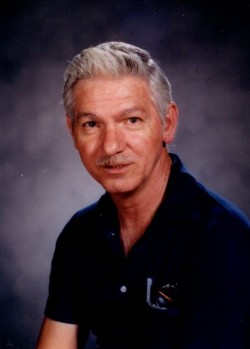 Date of Death: March 18, 2017
Date of Birth: November 6, 1944
Biography:
Lewiston – Reno Joseph Bell, 72, of Lewiston, Maine passed away peacefully surrounded by his family on Saturday, March 18th, after a brief illness. Reno was born on November 6th 1944 in Van Buren, Maine to Benoit and Alia Lebel Bell. He was the youngest of 13 children. The Bell family was well known in the Sabattus area, growing up next to the school.
Reno attended school in Sabattus and joined the Army in 1964. He served in the Pentagon in Washington, DC for most of his military career and was honorably discharged as an SP5E5 in 1970. He then Joined the Army Reserve and was attached to the 133rd Engineer Battalion, Company C, in Auburn, Maine. Reno married Fleurette (Flo) Bell on November 10, 1973. He was honorably discharged from the Reserves in 1976.
He worked in the maintenance department for the Lewiston School System for 29 Years. The students and staff loved him and his friendly personality. They enjoyed seeing his goofy smile and he cherished them in return. He often spoke fondly about the students and teachers he got to know so well. Reno retired from the Lewiston School Department in 2011 and then worked as a driver for United Wheelchair & Ambulance until he passed.
In his spare time, Reno enjoyed being with family, especially his grandchildren and great-grandchildren. He was immensely proud of all of them, bragging at every opportunity. He taught himself how to use a computer and navigated Facebook to keep in touch with family and friends. He was always the first to post a "Happy Birthday," even if it was several days ahead if he knew he would not be on the computer until afterward. Over the years, he had collected hundreds of Classic Country albums and spent the last 6 years transferring the music to CD's. He had hoped that someday he could sell them on Ebay. Reno was an active member of many local clubs including; Le Passe Temps (The Pastime), ACME, 20M and Le Nationale.
When Reno's friends and family learned of his illness, he received hundreds of loving comments on his Facebook page. Many remembered his ability to carry on a friendly conversation, flash an easy smile, crack a sarcastic joke and share a caring and patient ear when needed.
He is survived by his loving wife of 43 years, Fleurette (Flo) Potvin Bell of Lewiston, his three children, Lance (and wife Vickie) Baker of Litchfield, Renée (and husband Scott) Brezovsky of Auburn and Jody Bell of Crestview, Florida, as well as ten grandchildren, Katie (and husband Steve) Fisher of Lewiston, Tyler Baker (and partner Lilian Kaplan) of West Gardiner, Olivia Baker (and partner Kolbey Oullette) of Lewiston, Angelica Baker (and partner Gage David) of Auburn, Garrett Labbe of Litchfield, Megan Labbe of Berlin, NH, Tristan Brezovsky & Gabrielle Brezovsky of Auburn, Katie Bell of Fort Wayne, IN, and Nick Bell of Crestview, FL. There are also two great grandchildren, Blake Fisher and Luke Baker.
He also leaves behind his sisters Theresa (Terry) Bryant, Lucille (Lou) LaFrance and brothers Herbert (and wife Carol) Bell, Donald (and wife Judy) Bell, Norm (and wife Joline) Bell and Kenneth Bell and many nieces and nephews.
Reno is pre-deceased by his parents Benoit and Alia Bell and siblings Annette Clairmont, Fern Bell, Gilbert Bell, Benoit Bell, Hilda Tanguay and Thelma LaFrance. Visitation will be on Friday March 24 from 10 a.m. to 1 p.m. at Funeral Alternatives, 25 Tampa Street, Lewiston, Maine where a service to follow at 1 p.m. at the funeral home. Burial will be at a later date in St. Peter's Cemetery, Lewiston.
In Lieu of flowers please make donations at the Funeral Parlor or to Lewiston Municipal Credit Union C/O Therese Fleurette Bell 291 Pine Street, Lewiston, Maine 04240