« Obituaries | Lucille Rioux Belanger
Lucille Rioux Belanger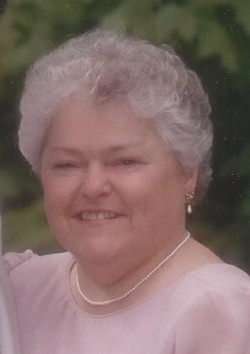 Date of Death: September 7, 2017
Date of Birth: February 1, 1940
Biography:
Lucille Rioux Belanger—Lewiston--Lucille Rioux Belanger, age 77, quietly passed away at her home in Lewiston, Maine on September 7th 2017, after living several years with heart ailments.
Born in Lewiston on February 1st 1940 to Cyril and Lucia Rioux, she lived, worked, married, and received her high school diploma in her home town. Lucille and her former husband, Roland, took over ownership of Nel's Variety as a young couple, and epitomized the meaning of a "mom and pop store" by getting to know the neighborhood kids that would hang around each day. They then moved on to ownership of Two in One Taxi Company, where Lucille's love of driving was best used in helping passengers with special needs get to school or appointments; it was a task that she found to be particularly rewarding. In her retirement years she truly enjoyed volunteering as a driver for Community Concepts. Her love of travel was evident, and a drive from Montana to Maine with her daughter, Cindy, was one of her highlights.
She was a great cook, and took pride in gathering the family for dinner or barbeque on Sundays and holidays. Lucille was also proud of feeding people at her own business, Memere's Hot Dog House...her grandson's still talk about her secret relish! There are many fond memories of her time as team mother for Lewiston Junior High School cheerleaders and Holy Family Hockey cheerleaders. Memere was a ferocious Bruins fan, but her favorite team to support from the sidelines was any team that had a grandson on it!
Lucille was predeceased by her parents, brother Larry Rioux, and niece Lynn Lapointe. She will be sadly missed by her daughters and their husbands; Donna and Jeff Neagle of Lisbon Falls, Diane and Robert Morin of Poland, and Cindy Suellen and McArthur Wallace of Denton, Texas. Her grandchildren; Josh Neagle of Waterbury, Connecticut, Kyle Neagle and fiancé Brittani Seeman of Portland, Nathan Morin, USN Jacksonville, Florida, and Dustin Morin of Poland. Her surviving siblings are Lauretta and husband Harry Lapointe of Del Ray Beach, FL, Donald and wife Ramonde Rioux of Sabattus, and sister (and best friend) Lorraine Rioux csj. of Waterville. She also has very special nieces and nephews who will miss her dearly.
We will celebrate Lucille's life on Friday September 15th at Gracelawn Memorial Park Gathering Room, Turner Street in Auburn, Maine. Visitation will be from noon to 1:00, with a memorial service to follow at 1:00 p.m.
By Lucille's request, Memorial contributions may be made to the American Diabetes Association PO Box 15829 Arlington, VA 22215 in lieu of flowers.
Lucille's family wishes to express sincere gratitude to her health care providers and her supportive neighbors at Oak Park in Lewiston, Maine.