« Obituaries | Raymond Romeo Bedard
Raymond Romeo Bedard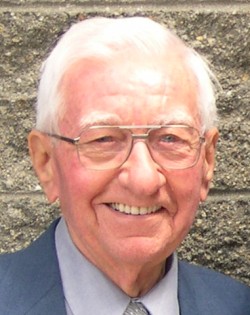 Date of Death: July 27, 2015
Date of Birth: June 19, 1928
Biography:
AUBURN — Following a valiant battle with advanced dementia, Raymond Romeo Bedard, the youngest child of Marie-Louise and Joseph Bedard, passed from this life and entered heaven on Sunday, July 27, 2014 where he was lovingly greeted by his parents and all of his 12 siblings who passed before him.
Ray (Dad) was born in Auburn on June 19, 1928, and attended St. Louis parochial school as a child. He graduated from St. Dominic Regional High School in 1947, and married the love of his life, Jeannette Talbot, on July 17, 1948, with whom he had been married for 66 years and raised four daughters.
He was a communicant of St. Louis Church in New Auburn and continued his faith at Sacred Heart, until his health problems made it impossible for him to attended Masses regularly, but his faith helped keep him whole through all his struggles. Ray was also with the Knights of Columbus, fourth degree.
Growing up along the Androscoggin River as a child, Ray survived many tragedies, including the New Auburn Fire of 1933 and the Lewiston-Auburn Great Flood of 1936, which both devastated his home. Having survived these catastrophic events, Ray went on to become a fine athlete through his school years.
While at St. Louis, he was a star pitcher and third baseman. It was at St. Dom's that his athleticism and leadership really shined, as he played football and was the captain of both the baseball and hockey teams. He was the captain of the hockey team in 1947 when St. Dom's won its very first state title and he led the team to the New England competition. He was also such a fantastic baseball player that he was scouted by the St. Louis Cardinals.
In recognition of his contributions, he helped to hang the St. Dominic Regional High School state championship flag at the Androscoggin Bank Colisee. Then, in 2010, he was inducted into the St. Dominic Regional High School Athletic Hall of Fame not only for excelling in sports, but because he was such a great leader and was well-respected by all his teammates. It was evident to all that Ray truly appreciated all the contributions of his teammates as he named each one-by-one during his speech to make sure they were all included.
Ray was a printer for Bates Fabrics for 35 years, before completing five more working years as a printer for the Lewiston Sun Journal, after which he was able to join Jeannette in retirement. Entering the working world and his subsequent retirement did not stop Ray from enjoying his passionate love of sports. While at Bates Fabrics, he played on the Bates Fabrics Baseball League and also joined several bowling teams for which there were numerous bowling trophies around the house.
Dad (Pepere/Granddad) followed all of his children, grandchildren and, when he could, his great-grandchildren through all of their various sports and activities. At sporting events, he was uncanny in his ability to understand not only games he had played, but even for those he had never participated. Whether it was a local team or professional, he kept track of many players. He kept every move, strategy and score in his head, and could recite several statistics on a dime.
One of the things his children will always remember about Dad, too, is that even with severe arthritis, a bad back and advanced age — no one could beat him at a game of horseshoes.
Ray will be so sadly missed by his family and friends: His loving wife, Jeannette, of Auburn; his daughters, Paulette Forgues and husband, Paul, of Auburn, Denise Bernard and husband, Nel, of Poland, Lynn Cote and husband, Ron, of Fort Myers, Fla., and Nancy Bisesti and husband, Jim, of Greene; eight grandchildren; and 12 great-grandchildren.
The family would like to thank the staff at Clover Health Care and Androscoggin Hospice House for all of their great care and compassion for Ray during this difficult time.