« Obituaries | Jeannette Gretchen Talbot Bedard
Jeannette Gretchen Talbot Bedard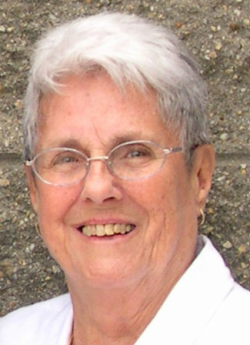 Date of Death: February 15, 2023
Date of Birth: February 25, 1929
Biography:
Jeannette Gretchen Talbot Bedard, age 93, passed away peacefully at the Androscoggin Hospice House very early in the morning on February 15th, 2023.
She was born on February 25, 1929 the youngest daughter of Amedee and Eva Talbot.  
Jeannette was raised and lived in Auburn most of her life graduating from Edward Little High School in 1947.  While in high school she met the love of her life, Raymond Bedard.  They were married July 17, 1948 at St. Louis Church in Auburn and enjoyed 66 years of marriage until his passing shortly after their anniversary in July, 2014 where she was right by his side.  Together they raised four daughters and a multitude of cats, including taking in strays their daughters found in the cold.Though initially a stay-at-home mom, Jeannette ventured into the workforce at a time when it wasn't customary for mothers to do so – but Jeannette wanted to ensure she helped her husband provide everything their girls needed and, in the process, taught her daughters the value of hard work and that women can work, while raising a family at the same time.  She was very good at numbers – even at the age of 93, she kept a meticulous checkbook, right to the penny, and all of her paperwork was in perfect order – never missing a payment for anything. To that end, she was a reliable and valuable employee and worked for many companies in the area – initially as a nurses aide at St. Mary's hospital, lovingly tending to newborn babies, but then found her true skill and took pride in precise bookkeeping for WT Grants department store, Maine Banana, Beef Distributors, before ending her working career at Casavant Insurance Agencyin 1991.  She wanted to retire a little early so she could help take care of her twin grandchildren, Brianna and Brett.
But, for mom it wasn't all about work – she had several hobbies she was very skilled at and enjoyed – sewing her daughtersclothes when they were young, knitting beautiful sweaters, hat and mitten sets, afghans, doilies and dishcloths, ceramics, playing cards with friends, playing the piano, and singing in choirs.  She also enjoyed going out dancing and she especially loved beaches and the ocean. Though Jeannette primarily loved classical music, she did have a fondness for quirky entertainers such as Richard Simmons and The Village People – annoying her daughter Nancy with constant replays of YMCA –rewinding the 8-track tape over and over again.  Christmas music also started in July for Jeannette.   She loved to travel and, with Ray, was able to visit places like Maryland, surprising their daughter Paulette and son-in-law Paul with a visit after they were newly married; then visiting them in Spain where Paul was stationed in the Air Force and meeting their first grandchild; a trip to Hawaii given to them by their family for their 40th anniversary; Puerto Vallarta with their daughter Nancy and son-in-law Jim along with grandchildren Brianna and Brett. They went on countless trips and outings with their daughter Denise and son-in-law Nel.  They also spent several weeks over many winters in Florida with their daughter Lynn and son-in-law Ron.  Because Ray was an avid hockey fan, they spent many hours at hockey games and were treated to several Lewiston Maineacs games by Paul and Paulette.
Then came along Jeannette's truest joys – her grandchildren, great-grandchildren, and great-great grandchildren, as well as MANY grandpets including Trixie, whom she loved to play with at her daughter Denise's home.   Jeannette and Ray attended so many birthdays, sporting events, school events, special events,graduations, holiday celebrations, weddings, showers, the list could go on – but, they enjoyed every single one and Jeannette carried on after Ray's passing.  Her daughter Denise had to keep a calendar to make sure mom stayed on track with her social events.
The family would like to thank Dr. Kenneth Brodsky and nurses Lori, Janice and Mary from L/A Internal Medicine; Dr. Sluis, CMMC Endocrinology Department and staff; Dr. Laura Onderko, cardiologist; Dr. Babathunde and all of the wonderful nurses and staff at St. Mary's Hospital. Dr. DeSoi and all the very special staff at the Androscoggin Hospice House. Her special friends that she enjoyed spending time with while living at Great Falls Plaza.
Jeannette is survived by her daughters Paulette Forgues and husband Paul; Denise Bernard and husband Nel; Lynn Cote and husband Ron; Nancy Bisesti and husband Jim.  She is also survived by eight grandchildren, 15 great-grandchildren with a new great-grandson due in March, and 4 great-great grandchildren.  She is predeceased by her parents, her husband Raymond, her sister Therese Dufresne, her brother Claude Talbot and one great-great grandson. Due to her age, she was also predeceased by all of her close friends, but kept them close to her heart.
Services will be held on February 25 at Sacred Heart Church 24 Sacred Heart Place, Auburn ME 04210, Visitation will be from 10-11am with a Funeral Mass at 11.
Private family Committal at St. Peter's Cemetery following the funeral
In lieu of flowers, Jeannette asked for donations to be made to the Raymond R. Bedard Endowed Family Scholarship established at St. Dominic Academy and in care of Catholic Foundation of Maine, P.O. Box 799, Portland, Maine 04104