« Obituaries | Helen H. Bedard
Helen H. Bedard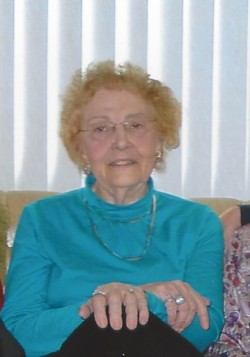 Date of Death: November 2, 2016
Date of Birth: August 8, 1924
Biography:
Helen H. Bedard
1924-2016
Helen H. Bedard of Lewiston died Wednesday November 2 at her home of 58 years on 222 Webster Street, surrounded by her loved ones. She was born on August 8, 1924 the daughter of the late Leopold & Maryann Maillet. She was married to Robert C. Bedard and together they owned and operated Bob's Red & White grocery store, were the landlords of several rental properties and later owned Music Works. She also worked at Peck's Department Store for many years.
 She was an accomplished pianist, having taught lessons as a teenager. Helen and her husband Bob, a violinist, enjoyed playing music together throughout their lives.  Her hobbies also included sewing, crocheting and playing bingo.
 Helen is survived by 2 her daughters Jeannie Holt and husband Don, and Connie Giles of Lewiston as well as daughter-in-law Debbie Bedard of Norway; four grandchildren Tiffany Cozzolino of Westerly, Rhode Island, Brendan Bernard of Smithfield, Maine, Kaitlin Globensky and Kristen Globensky of Lewiston, Maine; sister Carmen Foreman of West Paris; and 8 great-grandchildren.
She was pre-deceased by her husband in 2002, son Robert L. Bedard and grandson Benjamin Wagner, brothers Gabe and Daniel Maillet and sister Theresa Pelletier.
 In lieu of flowers, contributions are asked to be made to the local G.A.H.S., 55 Strawberry Ave, Lewiston, Me 04240, an organization Helen was devoted to. 
 The family would like to send a special thank you to Beacon Hospice for their compassionate service and caretaker Lisa Fitzsimmons for her kindness and dedication in her final days.
 Helen will be warmly remembered by many.