« Obituaries | Ruby Jannetta Beckwith
Ruby Jannetta Beckwith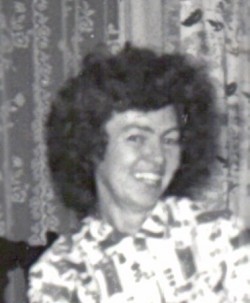 Date of Death: October 6, 2011
Date of Birth: May 27, 1923
Biography:
North Yarmouth - Ruby Jannetta Beckwith passed away at her home on Thursday October 6, 2011 in the loving care of her sons and Hospice of Southern Maine.
    She was born in North Weare, New Hampshire ("no where" she used to like to say) on May 27, 1923, the daughter of Lewis and Jannetta Judd.
    She was raised at Mast Landing in South Freeport ME. and attended schools and worked in the shoe shops of Freeport in her youth.
    She was a homemaker and volunteered 20 plus years in the local schools helping with fried clam and baked bean suppers that kids used to hold as fund raisers for the field trips she also helped to chaperone.
    She was for years a tireless all round "field general" of the pick-your-own strawberry patch that she and her husband Marvin maintained for many years on into their 80's.
    Ruby is survived by her sons John and friend Kay Bouchard; Dennis and his wife Janet. She also leaves behind grand children Paul and his wife Carrie, their children Zackary and Jacob; Robin and her husband Frederick Rowe, their children Cameron and Taylor; and Matthew and his wife Tonya and son Sam.
    She is predeceased by her mother and father and husband of 65 years Marvin Beckwith and all of her Judd brothers and sisters: Lewis (Buck), Jack, Millie, Lloyde, Nellie, Freda, Walter, Bill and Gertrude.
    She will be remembered as a loving wife, mother, grandmother and friend who made the rounds of the local nursing homes for many years bringing love to her friends and neighbors during their stay.
    Ruby's family extends their sincerest gratitude to the staff at Hospice of Southern Maine who made it possible for her to live her final days at home on the Baston road in North Yarmouth. Thank you so much Duska, Amy, Marie, Angela, Lisa and volunteer Betsy.
    There will be a graveside memorial service at Grove Cemetary off Pleasant Hill road in South Freeport on Saturday October 15 at 1:00PM
Condolences may be expressed at www.funeralalternatives.net