« Obituaries | Sylvia M. Becker
Sylvia M. Becker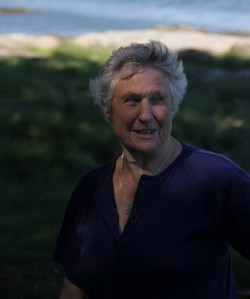 Date of Death: April 11, 2017
Date of Birth: April 4, 1928
Biography:
Sylvia M. Becker of Georgetown, Maine died peacefully on April 11, 2017. Born Elsa Sylvia Mueser on April 4, 1928 in New York City to Edward and Elsa (Habicht) Mueser, she grew up in Mountain Lakes, NJ.
After graduating from Radcliffe College in 1949, Sylvia traveled across Europe and landed in Germany, where she worked for the US Office of Military Government and met her future husband Ralph Becker. In 1957 they arrived in Georgetown, where they came to establish and run the bustling Robinhood Marina and to raise their four children. Later Sylvia built a house on the Knubble across the cove, sharing her love of nature and wildlife, of spring and growth, and of the Maine coast with her children and grandchildren.
Never one to be idle, Sylvia ceaselessly embarked on new adventures. She will be remembered as a whirlwind of activity, a global traveler, an innovator, investor and business owner, an avid gardener, and an independent, spirited individual. She rarely took the easy road and looked ever-onward; she celebrated every sunrise and moonrise.
Sylvia is survived by her children Enno, Liia, and Karen along with their families, including her grandchildren Iain, Ingrid, and William, and her great-grandchildren Lydia and August. The family thanks Pam Kakalis, Hill House, and Chans for their loving care over the past few years.
Donations in Sylvia's memory may be made toward the aim of wilderness preservation. A memorial service will be scheduled for the summer of 2017.