« Obituaries | Exilia I. Beaulieu
Exilia I. Beaulieu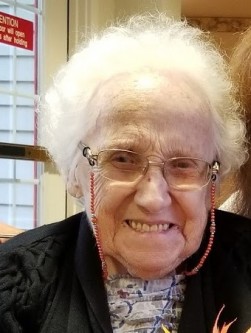 Date of Death: December 2, 2017
Date of Birth: July 13, 1923
Biography:
Exilia I. Beaulieu, age 94, died on December 2, 2017 at Marshwood Center in Lewiston. The daughter of Joseph and Emelda (Labonte) Lebrun. Exilia was born on July 13, 1923 at her grandparent's home on Merrill Road in Lewiston. She attended a one room school house before her family moved "downtown" to Lincoln Street in Lewiston. She completed her education at St. Mary's School. Throughout her life, Exilia worked in the textile mills and shoe factories in Lewiston-Auburn, in the carding room at Bates and Continental Mills, and as a stitcher at Arno Shoe. Exilia married Ligouri A. Beaulieu on July 4, 1955. The couple had one child, Suzanne Beaulieu Dionne, of Topsham. As a woman of faith, Exilia was a parishioner of St Mary's Church, and later, Holy Cross Church.
Exilia enjoyed going to the beach. Her favorite places included Sebago Lake and Reid State Parks. Until she was no longer able, she walked two miles each day. In retirement, Exilia worked in housekeeping at the Chalet Motel, earning cash to support her hobbies. She enjoyed quilting, crocheting, and needlepoint, making gifts for her many nieces and nephews and their own children. She volunteered at St Andre's Home and Mary's Place, providing child care for the residents so they could participate in therapy and groups. Exilia loved to go out to eat lobster rolls. She enjoyed puzzles, was an avid reader, and in the last years of her life, picked up adult coloring. Most of all she loved her family, including her 10 siblings and their spouses.
Exilia is survived by her daughter, Suzanne, and her son-in-law, Marc Dionne, sisters, Priscilla M. Bard and Cecile Brodeur, brother, Guy Lebrun and his wife Joanne, sister-in-law, Marie Lebrun, brothers-in-law, Andre Giguere and Ray Rancourt. She was pre-deceased by her husband, Ligouri A. Beaulieu, and siblings Roger Lebrun, Simone Pelletier, Lucienne Giguere, Bertrand Lebrun, Jeanne D'arc Lebrun, Gerard (Jim) Lebrun, and Claudette Rancourt.
Visitations will be on Sunday, December 10, from 1:00 o 4:00 PM at Funeral Alternatives, 25 Tampa Street, in Lewiston. Funeral mass will be at 11:00 AM on Monday, December 11, at Holy Cross Church, 1080 Lisbon Street, Lewiston. Burial will follow in St. Peter Cemetery, Switzerland Road, Lewiston.