« Obituaries | Shirley F. Beaudoin
Shirley F. Beaudoin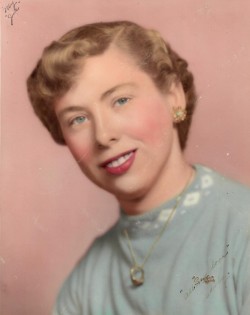 Date of Death: April 3, 2018
Date of Birth: May 12, 1937
Biography:
Shirley F. Beaudoin, 80, of Greene, Maine passed away on April 3rd, 2018 at Clover Manor in Auburn. She was born in Auburn on May 12, 1937 to parents John F. and Doris E. (Record) Huntington.
Shirley attended Auburn schools, graduating from Edward Little High School's class of 1955. She was a payroll clerk, retiring from the Lewiston School Department after 22 years.
She enjoyed bus trips to Pennsylvania, and going to the ocean, and the islands. Shirley loved her time with family, especially her grandchildren and great-grandchildren.
Predeceasing her were both parents, and a sister, Phyllis Latlippe.
She is survived by her husband of 60 years, Joseph Beaudoin; two daughters, Lori Welch and her husband Rick, and Carol Springer and her husband John; her grandchildren, John Springer, Richard Welch, Brianna (Welch) Martin, and Megan Welch; great-grandchildren, Parker Springer, Madelyn Springer, Blake Springer, Wyatt Welch, Tristan Martin, Lucien Martin, and Aiden Martin; and one sister, Virginia Huntington.
Burial will take place at Litchfield Plains Cemetery on Saturday June 2nd, 2018 at 10:30am. In lieu of flowers, donations may be made to Androscoggin Homecare and Hospice, 15 Strawberry Ave. Lewiston, Maine 04240, or to the Greene Baptist Church 102 Main St, Greene, ME 04236.