« Obituaries | Pauline Beasley
Pauline Beasley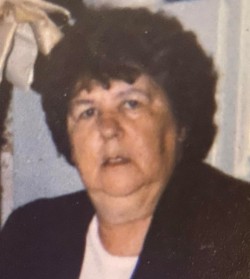 Date of Death: March 10, 2023
Date of Birth: November 7, 1935
Biography:
Pauline Beasley, 87, of Richmond passed away peacefully on March 10, 2023. Pauline was surrounded by family and a wonderful care team at Midcoast Hospital at the time of her passing.  A welcoming soul, Pauline will be missed and remembered by the many lives she touched.  

Born in Richmond, Maine on November 7, 1935.  She was a lifelong resident, a graduate of Richmond High School, and always a fan of the Bobcats.  Pauline worked many years at Etonic Shoe Shop followed by numerous small business ventures including Kozy Korner Kafe and B+B Redemption Center.  Spending time with her family, especially her four grandchildren and nine great grandchildren gave her the most joy.

Over the years, Pauline was first in line to help a community member, often organizing benefit suppers to support someone in need.  She was a former school board member, a member of the senior citizens, the Richmond Booster Club, and dedicated numerous hours to other organizations and events.  As a result of her commitment to the community she was recognized with the Sally Hoyt Award in 2002.

Pauline is survived by her son Bradley Beasley, daughter Billie Sue Beasley, and son Bruce Beasley and his wife Joyce. The list of others that she "opened her house to" is way too long to list.  The family wishes to thank those that have shared their stories of her impact on their own lives.

Pauline is preceded in death by her husband Delmar "Bill" Beasley, her parents Wesley and Nettie Cray, and her siblings, Phyllis Chapman, Wesley Cray, Gloria Kenney, Albert Cray, and Merle Cray.

Pauline's end of life wishes are being handled by Kincer Funeral Home in Richmond.  A celebration of her life will be held at a later date.