« Obituaries | Robert D. Bastien
Robert D. Bastien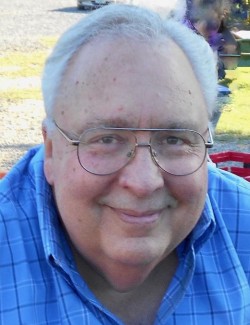 Date of Death: March 30, 2019
Date of Birth: January 22, 1948
Biography:
TOPSHAM, ME -- Robert D. Bastien, 71, died on March 30, 2019. He passed from this life peacefully at home, surrounded by family,after a long illness.
Robert(Bob) was born on Jan. 22, 1948, to Lionel and Mathilda (Pichette) Bastien in Providence, RI.
He had the charming trait of always being himself. He loved spending time with his family and friends, and especially enjoyed cooking for them. His interests were many,including cuisine, photography, boats and cars, and birds -- especially the eagles that lived in the trees outside his home, and penguins. His favorite place to visit was Lake Winnipesaukee, NH. He enjoyed a decades-long tradition of being photographed making a funny face while pointing to food he was about to enjoy, hot wieners being a favorite. Through the years he was nicknamed Two-Beer Bob, Kodiak, and Buffalo,indicative of his sense of humor.
He was co-owner and chef at the 220 Diner on Smith Street, Providence, RI, in the early 1980's, earning positive reviews in The Providence Journal. A few years after moving to Maine in 1988, he became an expert marine finisher specializing in bright work at Boothbay Regional Boatyard, where he worked for many years.
Bob was a lifelong Catholic, who in his later years developed a special devotion to Mary, the Mother of Jesus. He prayed for his family and friends each evening, taking care to mention every one of his loved ones by name. Those closest to him knew that he often discreetly helped those down on their luck. He was a kind man.
He was predeceased by his parents and his sister Gloria Mason.
He is survived by his three devoted sons: Marc and wife Kelly (Pratt) of Pawtucket,RI; Peter of Bath, ME, who lovingly and heroically cared for him during his extended illness; and Daniel and wife Lynne (Lapointe) of Rochester, NH;grandchildren Kayla, Gabriel, Cameron, Noelle, Allison and Noah; great-grandchildren Jace and Arya; his sister Claire Kenny of Easley, SC; nieces Patricia Fitzpatrick and Deborah Sojka; nephew Rick Kenny; and former wife of 30 years Claire M. Gosselin.
There will be a celebration of his life at the River Landing, 29 Elm Street, Topsham,ME, from ­­­4 to 6 p.m. on Saturday, April 6. Family, friends and former co-workers are welcome.
A Mass of Christian Burial will be celebrated at St. Cecelia's Catholic Church,corner of Newport and Central avenues, Pawtucket, RI, at 10 a.m. on Saturday,April 13. He will be interred at Gate of Heaven Cemetery in East Providence,RI.
In lieu of flowers, contributions may be made to one of his favorite causes, SmileTrain (online at www.smiletrain.org orby calling 1-800-932-9541). He also would want to help local cancer patients: Donations may be made to the Dean Snell Foundation, P.O. Box 104, Brunswick, ME 04011;please put "NECS patient" in the memo.