« Obituaries | Lawrence E. (Bart) Barton
Lawrence E. (Bart) Barton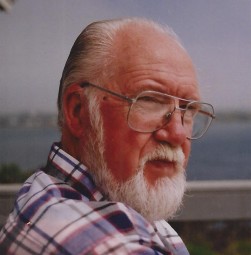 Date of Death: November 11, 2017
Date of Birth: September 25, 1923
Biography:
BRUNSWICK - Lawrence E. (Bart) Barton, 94, passed away peacefully on Veterans Day, November 11th, 2017 at Horizons Assisted Living Facility in Brunswick. His devoted wife, Shirley, was at his side.
Bart was born September 25th, 1923 in Raymond, Maine to Robinson and Abigail Barton. He grew up there and attended Windham High School.
Bart and listed in the US Army in 1942 and did basic training in a Mechanized Calvary unit. He was then shipped overseas where he served in England, France, and Germany. He was the recipient of the Bronze Star for meritorious service and was discharged in 1945. He later served in the Navy Reserve from September 1947 to August 1951.
Bart went to work at Edwards and Walker, the largest hardware and sporting goods store in Portland at the time. This is where he met Shirley, as well as her parents who were also employed there.
Bart and Shirley were married at Shirley's parents' house on the Eastern Promenade in Portland in 1946 and shortly after moved to Raymond and began to raise a family. They became active in the community church where Bart could be found delivering the sermon for a sick or vacationing pastor. At Christmas he would grow out his beard and don a Santa Claus suit and talk to the kids asking what they would like and checking to be sure they'd been good.
Bart could also be found shingling the roof or running an errand for an elderly neighbor. He would change their oil, shovel snow from their yard, or whatever it took to make life easier. He was known as a great Storyteller with an amazing memory. In Raymond he would participate in variety shows by reciting humorous poems, pages and pages long, from memory, never forgetting a word.
A local music group needed a bass fiddle player and, the Bart had never laid his hands on one before, took on the role and before long began to play like an old pro.
A former fisherman and hunter, skier, and all-around outdoorsman, Bart continued his love of fishing when he and Shirley moved to Vero Beach, FL and he would fish at Sebastian Inlet. The pull of Maine was too strong though and after several years they returned to Maine. Bart and Shirley both worked for several years at the Ames department store in Wiscasset where their work ethics, integrity, and love and devotion to each other were witnessed daily.
Bart joined the Wiscasset Order of Masons and achieved Master status, Lincoln Lodge in 1999.
Bart was predeceased by his son, John Barton in 2012.
He leaves behind Shirley, his loving wife of 71 years; son, Timothy Barton of Woolwich, ME; daughter, Sheryl and husband Larry of Jefferson, ME; daughter, Patricia Jorge of Altha FL; grandchildren, Meagan Stroud and husband Jeremy of Greenville SC, Justin White and wife Kathy of Salt Lake City, Utah, Trevor Alexander and wife Jessica of Huntsville, AL, Jessica McTavish of Altha, FL, and Lawrence McTavish and his wife Morgan of Altha, FL. Bart also has several great-grandchildren as well as nieces and nephews that he leaves behind.
A memorial service is being planned for the spring.