« Obituaries | Ernestine C. "Tina" Barstow
Ernestine C. "Tina" Barstow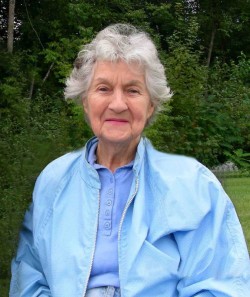 Date of Death: May 31, 2010
Date of Birth: September 4, 1927
Biography:
                                                          Ernestine C. Barstow "Tina"
Augusta-Ernestine C. Barstow, 82, of Augusta passed away peacefully on May 31, 2010 at Graybirch Nursing Home.
She was born in Manchester, CT on September 4, 1927, the daughter of Mearl and Doris (Ware) Weart.
She was the widow of Walter Barstow who died May 4, 2004.
Before her retirement she was employed by New England Telephone as an operator for many years and a homemaker to her five children.
Tina and her husband Walter traveled the United States in their motor home for 10 years making friends and acquaintances along the way that they continued to correspond with.  They returned to Maine every summer and eventually settled in Augusta where they enjoyed gardening and traveling throughout the state.   Most recently she lived at John Marvin Tower in Augusta where she had many supportive and caring friends. 
She was predeceased by her parents and her husband.
She is survived by two sons Pat M. Gregoire and wife Verna of Augusta and Dennis B. Gregoire and wife Kasey of Limerick; three daughters Karen L. Foster and husband Dan of Grantham, NH, Laurie A. Gagnon and husband Jerry of Augusta, Mimi M. Clark and husband Andy of Litchfield; four grandchildren, Angela Haidara, Josh Blanche, Annie Gregoire and Ian Barstow; one sister Marian Cook and her husband Leon of Lowell, MA; six great grandchildren, Bridget, Colleen, Deanna, Aisha, Abdullah and Carter and many nieces, nephews and cousins.
Memorial services will be held privately. 
Arrangements are under the direction of Funeral Alternatives of Augusta.  Condolences may be expressed at FuneralAlternatives.net