« Obituaries | Jane C. Barron
Jane C. Barron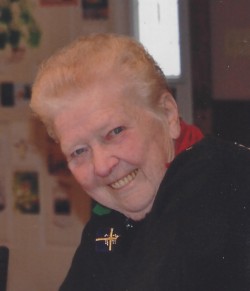 Date of Death: December 15, 2015
Date of Birth: July 10, 1936
Biography:
Lewiston-Jane C. Barron; beloved mother and grandmother passed away on Tuesday, December 15, 2015 after a short, stubborn and feisty battle with Lung cancer and COPD.
She was born on July 10, 1936 in Brewer, Maine to Harvey and Frances Crook. She graduated from the CMG School of Nursing in 1957 and worked her entire career as an RN at CMMC in Lewiston.  She was the 3-11 Nursing Supervisor for many years retiring at age 60. She also earned her Bachelors' degree from Univ. of New England when she was in her 40's.  Following her retirement she continued to work for both CMMC and Martin's Point as a private contractor.
She served two terms as President of the Women's Hospital Association at CMMC as well as serving on the CMMC Board of Directors.  She was influential in the design of the present gift shop at CMMC. She also taught CNA classes through the Franklin Alternative Education Program.     
She was a member of Magic Pops Chorus for many years and very much enjoyed singing at the various concerts especially the Christmas concerts.
She enjoyed traveling, taking various cruises with her many close friends after retirement as well; especially enjoying the cruise to Alaska where she walked on a glacier.
One of her greatest joys was time spent with her family. She was hostess of many "Porch Parties" at her home on Randall road with her children; their Bands; and many friends and more than once had uninvited visits from the police due to loud music. She was an awesome Mom; great Mother-in-law; and loving friend to many.
Her two grandchildren were the light of her life and she always looked forward to any time spent with them, whether it was the annual cookie making or lunch out to name just a few. She was very proud of her children and grandchildren.
She is survived by her three children and their spouses: Frank J. Barron (Bobbie); Paul H. Barron (Allyson); Beth B Bell (Lance) Grandchildren: Jordan L. Bell and Julia C. Barron. Her sister  Mary Ellen (Peter) Gartner; and her brother David (Barbara) Crook. Numerous nieces, nephews, cousins, former husband Charles F. Barron and too many close friends to list. She loved them all.
Predeceased  by her parents Harvey and Frances Crook; and her brother Paul Crook.
Special thanks to Megan RN and Ashley RN on M-1; and the nurses in ICU especially Melissa RN as well as Dr. Trustan Ennacheril and Dr. Chris Cook of the ICU. Also to Dr Sarah Skelton who cared for her for many years. Your care and compassion will be remembered.
In lieu of flowers, donations can be made in Jane's honor to the Maine College of Health Professions - Alumni Association Scholarship Fund, 70 Middle St., Lewiston, ME  04240.
A memorial visitation will take place on Sunday, December 20th from 11 to 1pm with a celebration of life to follow at the funeral home, 25 Tampa St., Lewiston, ME  04240.  Burial will be private.