« Obituaries | Ruth E Barnhart
Ruth E Barnhart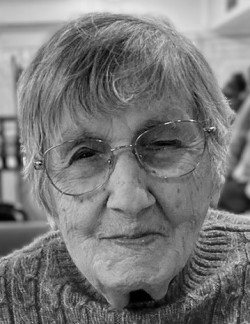 Date of Death: February 6, 2023
Date of Birth: December 28, 1923
Biography:
AUGUSTA, Maine.-Ruth Elizabeth Barnhart, 99, died February 6, 2023.
Ruth was born 12/28/1923 in Lebanon County, PA to John and Mary Elizabeth Marburger. She was raised in the Brethren tradition (an offshoot of the Mennonites) and grew up wearing "plain clothes". Ruth graduated from Derry Township High School near Hershey, PA. in 1942. She earned a Registered Nurse degree in 1947 from Good Samaritan Hospital in Lebanon, PA but turned down a scholarship to train in psychiatric nursing in Philadelphia.
Ruth married Paul Barnhart, Jr in November, 1947. She settled in Hamburg, PA where she raised a family and worked both in Industrial Nursing in local factories (where she successfully reduced eye injuries) and as a private duty nurse. She moved to China, ME in the early 1990s for family support following her husband's stroke.
Ruth passionately enjoyed dressing stylishly in bright colors although in her later years returned to her nursing white. She volunteered in clothing banks for many years.
She crocheted prodigiously, donating hats and scarves to local charities by the bushel full. She loved designing and decorating hats which she generously provided to all family members near and far! Her friends enjoyed her humor, generosity, genuine kindness and support for the underdog. Despite traditional beginnings, she learned to text, kept up with politics and remained involved with the modern world at large. Ruth especially loved her daughter's eclectic cooking and prayed with her son every night.
Ruth was predeceased by her husband of 50 yrs, Paul Barnhart, Jr and their infant son Marlin Barnhart. Ruth is survived by her daughter Mary Louisa Barnhart, MD and husband Michael Klein of China, ME, their children Benjamin Klein married to Molly Gibson of Durango, CO and Nathan Klein married to Goldie Klein of Sunnyvale, CA and one great-grandson Addison Gibson Klein of Durango, CO. She is also survived by her son Paul Barnhart, III an aluminum casting engineer married to Roleen Barnhart owner of Barnhart Studio/Mother of Purl of Boyne City, MI, Paul's step son Samuel Merian and a daughter Anna Rose Barnhart from a previous marriage.
There will be a memorial service Wednesday, February 15, 2023 at 3PM at Howell House, 44 Sewall Street, Augusta, ME 04330.
In lieu of flowers, the family suggests donations to Fresh Starts, 352 Civic Center Dr, Augusta, Maine 04430. Attn: Sue Gayne, Director. This charity furnishes apartments for the homeless.