« Obituaries | Janet P. Barnard
Janet P. Barnard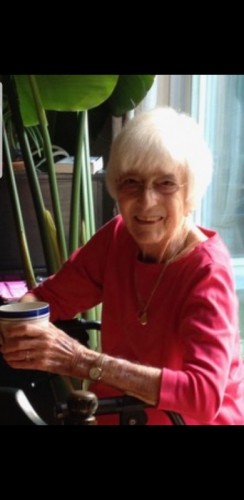 Date of Death: January 8, 2020
Date of Birth: May 6, 1924
Biography:
Janet P. Barnard, 95, died peacefully Wednesday, January 8, at the Maine Medical Center. She was comforted there by her daughter Susan and family and in conversation with her other three children, and was lucid, forward-thinking and loving until her last breath.

Born to Harry G. and Norma M.W. Potter on May 6, 1924 in Newark, NJ., Janet
graduated a National Honor Society member from Barringer High School and Washington School for Secretaries, and worked as secretary to the president of Federal Shipbuilding & Drydock Co. when she married Walter Bigelow Barnard II in 1942. After his U.S. Army service in Europe and the Pacific during WWII, they lived and raised their family in West Boylston and Scituate, and were happily married for over 60
years until his death in 2003.

Janet is survived by her sons, Walter B. Barnard III and wife Julia of Worcester and children Richard and Sarah; Whitney A. Barnard and wife Joanne of West Boylston and children Dr. Anne Barnard and husband Dr. Reza Hosseini-Ghomi, Carl Barnard and Jane Barnard and fiancé Graydon Vigneau, Jr.;her daughters, Susan B. Lamdin and husband Geoffrey of Brunswick, ME and children James and wife Patricia, and Kelsey and husband Jonathan Willard; and Dr. Phoebe E. Barnard and husband John Bowey and daughters Catherine and Julia Simmons. Also, many nephews and nieces,their children and
grandchildren.

She was predeceased by her parents, sister Doris & Whitney Ball, brother Whitfield & Adele Potter, and in-laws Lawrence & Janet Barnard, Richard & Jane Barnard, Sally &
George Blakeslee and their daughter, Fay Rossley.

Janet will long be remembered for her good nature, positive energy and spirit of service. In each community of which she was part, starting with her own family, she helped others - from pushing the Memorial Hospital Aid Society book cart and introducing "talking books", volunteering at several other hospitals and libraries, and serving as church Sunday school teacher and choir member, to serving on several committees and leading exercise classes at her retirement community, Thornton Oaks.

A memorial service is planned on January 26 at Thornton Oaks, Brunswick,ME. In lieu of flowers. The family would be glad of memorial contributions to CHANS Community Health
and Nursing Services in Brunswick, ME <www.midcoastparkviewhealth.com/giving>, or Friends of the Beaman Library Endowment, 8 Newton Street, West Boylston, MA 01583.