« Obituaries | Greta Joan Banda
Greta Joan Banda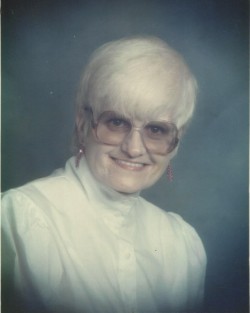 Date of Death: February 22, 2015
Date of Birth: April 14, 1933
Biography:
BRUNSWICK - Greta Joan Banda, 81, of Brunswick passed away peacefully at her residence on February 22, 2015. She was born in Portland on April 14, 1933 to Gerald P. Dunn and Lucille Edgerly Dunn.
Greta was a graduate of Deering High School, class of 1952. She married Lionel C. Banda and raised her five children in Brunswick. She deeply enjoyed her family, loved her dog Tinkerbell, and all animals. Greta was a dedicated Navy wife and loved patriotic music.
She is survived by her sister, Doris Mershimer of Portland; her daughters, Geral Manchester of Cumberland, Gretchen Italiano of Sarona, WI, and Abigail Banda of Brunswick; two sons, Crispin Banda of Hartselle, AL, and Eugene Banda of Brunswick; five grandchildren, Greta, Sarah, Laura, Joe, and Crispin II; six great grandchildren, Samantha, Miranda, Silas, Zeke, Sam, and Ezrah.
A funeral service will be held on Saturday, February 28, at 1:00pm, at Maine Street Baptist Church, 326 Maine Street, Brunswick. A spring burial will take place at the Maine Veterans' Cemetery on Civic Center Drive in Augusta at a time to be announced.
Memorial donations may be made to CHANS Hospice, 60 Baribeau Drive, Brunswick, ME 04011, and the Maine Street Baptist Church, 326 Maine Street, Brunswick, ME 04011.