« Obituaries | Charles Pullin Baker
Charles Pullin Baker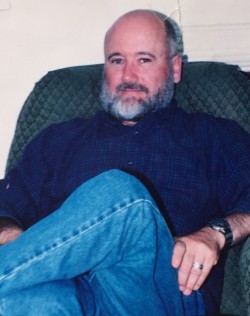 Date of Death: May 7, 2019
Date of Birth: February 5, 1955
Biography:
Charles "Charlie" Baker was a naturally gifted storyteller with the keen eye of a cynic, and a heart full of love. He died on May 7, 2019 due to complications from a rare type of Muscular Dystrophy. Charlie was born February 5, 1955 in Brunswick, Maine, where he grew up, and where he lived for a good part of his life. At a very young age he developed an adventuresome spirit, and the gift of recounting his adventures in the stories he shared. His uncanny ability to forget nothing was matched by his use of descriptive detail. The "telling" got at the hilarity, or absurdity of a thing without demeaning or judging the characters.

Charlie's first sea adventure was a summer job when he was seventeen. He traveled back and forth between Portland Harbor and Nova Scotia on The Prince Of Fundy. Fairly soon out of high school he went into the Coast Guard, but was quickly discharged for what would later be diagnosed as muscular dystrophy. Determined to make a career on the water one way or another, he joined the same National Maritime Union his father belonged to, and found himself working on large tankers in various capacities and under both US and foreign flags. During his years at sea he sailed in many oceans and to the far reaches of the world.  Passionate about good food, Charlie was a street food connoisseur before it was hip!  He was an excellent cook. His knowledge of seamanship was extensive, and at one time he held a U.S. Coast Guard Unlimited First Mates license. He chose to forgo sailing with same, always preferring the deck and sometimes galley. It was the years with NOAA, Woods Hole Oceanographic, and University of RI's research boat, RV Endeavor, where he developed very close life-long friendships, and created more colorful stories than ever. He returned to Brunswick in 1993 to care for his father following the death of his mother. Then, in 1996 while working for the Maine State Ferry Service he met his wife to be, Eileen Marie Boardman. They married in 1997, and shared a loving, happy, and splendid marriage.

Charlie was a Third Degree Mason affiliated with Marine Lodge A.F.&A.M out of Falmouth, MA for over 31 years.

He was predeceased by his parents Pearl and Forrest Baker; half brother, Eric Baker; in-laws Eileen and Paul Boardman; as well as many dear and close friends.

He is survived by, and will be deeply missed by his wife, Eileen; son Peter Olaf Baker, his wife Travy Moncure, and their two children, Seamus and Elsa to whom he was affectionately referred to as "Bumpa"; the entire Boardman clan whose lives he brightened, and changed ; many close and dear friends, and anyone touched by his wit, intelligence, and kindness, but most of all his sense of humor.

One of Charlie's only wishes was to have his ashes scattered in Penobscot Bay; ashes will also be scattered at sea from RV Endeavor.