« Obituaries | Patricia Arden Bailey
Patricia Arden Bailey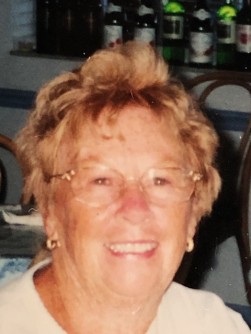 Date of Death: March 30, 2023
Date of Birth: January 21, 1930
Biography:
PORTLAND-Surrounded by her loving family in Christian fellowship and prayer Patricia Arden Bailey passed away peacefully on March 30th, 2023. She was 93 years young.
Pat was born on January 21st, 1930, in Swampscott, Massachusetts the daughter of George Preston Bailey and Cathryn Thelma Akers. She attended Auburn, Maine area schools and graduated from Edward Little High School class of 1948. She was accepted at Mercy Hospital School of Nursing and graduated as a registered nurse. Pat continued her nursing studies throughout her life. She dedicated her life to providing compassionate health care to those who needed it. She married the love of her life Paul Harrison Edwards in 1950. Paul's career as a Navy pilot kept them on the move. Life's path took her to many different cities and with each move she continued to provide the same dedication in area hospitals. Her professional endeavors earned her the appreciation of the patients she cared for as well as the respect of her peers.
Pat settled in Tampa, FL. in the seventies where she made many lifelong friends that she considered her second family. She was a long time member of the Dana Shores Women's Club. Her compassionate nature prompted her to be involved in many charitable organizations to which she gave freely of her time and financial support. Pat had a passion for sailing and enjoyed her time at local yacht clubs. She loved to travel and visited many parts of the world. Her tales of those trips were laced with humor and appreciation for the people she met.
She would return to Maine and spend her summers on the property on Crescent Lake that her grandfather had acquired during her childhood. Patricia loved to sit on the deck at the family cottage in the warmth of the sun and feeling the gentle breeze as she watched the brightly colored sail boats crisscross the lake. Many summers Pat worked at Camp Pinehurst where she was affectionately known as "Nurse Pat".
Pat is survived by her sister Sue Polland and her husband Merlen, sister Sally Smith, her brother Mike Smith and his wife Laurie, and many nieces, nephews and family members including cousins Cliff Akers and Pam Akers.
Pat was a Christian and she knew Christ died on the Cross to pay for her sins so that she may dwell in the house of the Lord forever.
As those of us surrounding her bed began to witness her soul leaving her body, she opened one eye and peered up to the ceiling. In that moment we believe she was seeing the beauty of God, Heaven and the sunny porch she would be sitting on as the brightly colored sailboats passed endlessly beneath her.
A Celebration of Life will be held at the cottage on Crescent Lake at a later date.