« Obituaries | Alan J. Azzara
Alan J. Azzara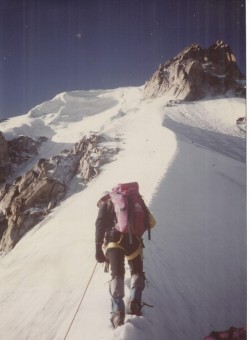 Date of Death: July 20, 2018
Date of Birth: September 5, 1945
Biography:
WESTPORT ISLAND - Alan J. Azzara, 72, departed this world much against his will, Friday, July 20th 2018.
He was born in September of 1945 in Wilkes Barre, PA son of Anne (Sokoloski) Azzara and Albert Azzara. He spent his formative years in Hempstead NY, attended Hempstead High School, Ohio State University and received his law degree at St. John's Law School, Jamaica, NY.
Alan was an outstanding athlete, excelling at everything he tried his hand at. He played lacrosse on an athletic scholarship at Ohio State, but the real love of his life was mountaineering. He hiked extensively in the White Mountains, and the "Gunks" near Mohawk Mountain Preserve in upstate NY. He attended the International School of Mountaineering in Switzerland and climbed extensively in the Swiss Alps.
After Law School he opened a law practice in Mineola NY, specializing in Constitutional Law. He volunteered with the NY American Civil Liberties Union on numerous cases including a milestone case in response to book banning in a local school library. At the center of this controversy was Slaughterhouse-Five by Curt Vonnegut and several other important writings by Pulitzer Prize recipients. Alan also worked tirelessly to ensure access to appropriate education for children with special needs. He moved to Maine in 1992 where he worked in private practice.
He became an EMT and eventually a paramedic and was a Red Cross and American Heart Association instructor in CPR. He helped organize and create the first rescue service in the city of Glen Cove NY. He volunteered with Freeport EMS for many years, worked at Northeast Mobile Services as a medic and later as the VP of Human Resources and where he also served as legal counsel.
A prolific writer, he co-authored a book on legal/medical ethics, followed by a pharmacology field guide for first responders. Alan also contributed to numerous legal and medical journals as well as text books. He taught classes in Philosophy, Medical Law and Ethics and Criminal Justice at CMMC as well as Kaplan University and was a frequent lecturer at conferences across the country.
Alan was predeceased by his mother, Anne. He is survived by his father, Albert Azzara of Westport Island, his wife, Suzanne Azzara of Westport Island, his sister, Roberta Azzara of Plainfield NJ. He is also survived by his three step children, Nathaniel Ellis and his wife Maureen of Princeton, NJ, Benjamin Ellis of California MD, Hilary and her husband Jacob Braley and their three children, Elijah, Lilah and Eloise all of Bristol, ME. He is also survived by his niece Erika Adelman of Birdsboro, PA.
He loved all animals but especially his Golden Retrievers Dougal, Clancy and Megan.
Alan was wicked smart, wicked funny and wherever he went, he made friends. He leaves behind a world better for his contributions and gentle presence.