« Obituaries | Cleveland F. Ashton
Cleveland F. Ashton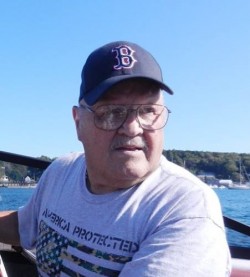 Date of Death: February 24, 2015
Date of Birth: September 27, 1945
Biography:
WISCASSET – Cleveland F. Ashton, 72, of Wiscasset died on Tuesday, February 24, 2015 at Bodwell House in Brunswick.
He was born on September 27, 1945, the son of Arthur S. Ashton Sr. and Kathleen Ashton Overlock.
In Cleveland's younger days he belonged to snowmobile clubs. He enjoyed anything mechanical, and loved to work on cars, trucks, boats, and small engines. He also enjoyed going out boating, snow plowing, and playing cribbage with his best friends Craig Bennett and Aaron Chancellor. In his spare time, he raised and hatched white doves, a bird he really loved, and often found new homes for them.
Cleveland began his work as a mechanic in Florida from 1975 to 1989, before moving to Wiscasset, Maine in 1989 where he worked for Sanford's Garage and Coffin's Garage in Bath. He resided in Wiscasset until his passing.
He was predeceased by his parents, his sister Roxanne Ashton, and three brothers, Edward Ashton, Arthur Ashton, and C. Charles Ashton.
He is survived by his son, Cleveland Harrity; two grandsons, Kellen and Caden Harrity of Florida; a sister, Janet Tucker of New Hampshire; a brother, Marc Ashton of Wiscasset; and several nieces, nephews, and great nieces and nephews.
A graveside service will take place in the spring at Oak Grove Cemetery in Bath at a later date.
In lieu of flowers donations may be made in Cleveland's memory to the Maine Cancer Foundation, 170 US Route 1, Suite 250, Falmouth, ME 04105.