« Obituaries | Deborah (Billie-Jo) Carol Asbury
Deborah (Billie-Jo) Carol Asbury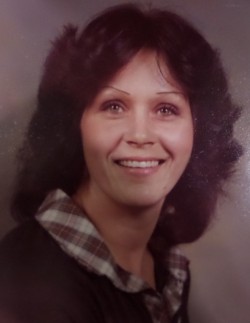 Date of Death: September 25, 2023
Date of Birth: March 21, 1954
Biography:
Deborah (Billie Jo) Carol Asbury, 69 of Auburn, ME passed quietly at Androscoggin Home Care & Hospice House in Auburn, ME on Sept. 25th, 2023. She was born in Yuma Arizona on March 21, 1954 to Evelyn Isabelle Asbury & Mason (Jerry) Cooper Asbury of Yuma, Arizona 
Billie Jo was an awesome and well loved Mixologist in California before moving here to Maine to be with family. As she was no longer able to work, She loved playing computer games, especially strategy games, puzzle solving, and word searching. She loved doing puzzles; cats, dogs, horses, Native American, the bigger the better! 
She is predeceased by Pookie, her beloved kitty of 16 years, her mother Evelyn, her father Mason, sisters Mary (Katy) Garretson, California, Debra Faye Asbury, Arizona and brother Arthur Asbury, Arizona.
 Billie Jo is Survived by sister Bobbie Jo Asbury-Smith and husband Jeffrey Smith of Auburn, ME, oldest sister Natalie J Childers of Yarnell, Arizona, step sister  Linda M. Ridlon, son Richard Earl Young-Lloyd of Ashland City, TN.
 A Private Celebration of Life gathering was held at the home of sister Bobbie Jo and her husband Jeffrey, along with sister Linda in Auburn. Attended by family members & close friends. All those who loved and cared about Deb (Billie Jo) were encouraged to make donations to Auburn Firefighters & EMS of Auburn ME in lieu of flowers in Memory of Deborah (Billie Jo). For those workers who promptly responded to her urgent calls for help in her many times of need and for their faithful and caring service.