« Obituaries | Louise P. Arsenault
Louise P. Arsenault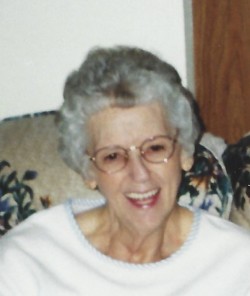 Date of Death: September 8, 2013
Date of Birth: March 6, 1928
Biography:
Louise P. Arsenault, 85, of Auburn, Maine passed away on Sept. 8th, 2013 in Lewiston.
She was born in Oldfields, NC on March 6th, 1928 to parents James D. and Emma Ann (Parsons) Perkins.
Louise was very active in the Salvation Army, and also was an active member with the First Baptist Church in Westbrook, Maine.
She was an elevator operator for many years at the Masonic Lodge in Portland.
Louise is survived by her two sons, Jimmy Perkins and Rick Macie; her daughter Theresa Winslow; six grandchildren, Mark, Danny and Amy Perkins, Rick Macie Jr., Katherine Hutchins, Dustin, and Terrill Gordon; and numerous great grandchildren.
Graveside services will be held at Brooklawn Cemetery, 202 Congress St. Portland Maine at 2pm on Fri. Sept. 20th. In lieu of flowers, donations may be made to the Salvation Army.
In lieu of flowers, donations may be made to the Salvation Army ATTN: Development Department, 700 North Bell Ave. PO Box 742 Pittsburgh, PA 15106