« Obituaries | John Silk Arnoldy
John Silk Arnoldy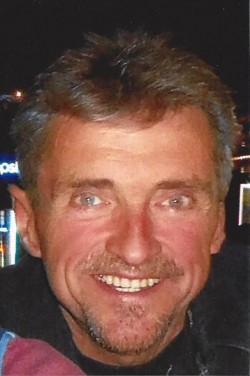 Date of Death: February 16, 2014
Date of Birth: October 4, 1953
Biography:
John Silk Arnoldy passed away peacefully with an angel on each arm on Sunday, February 16, 2014 at the Androscoggin Hospice House. His loving family was with him during his final days. He was born to Roland R. Arnoldy and Olivette (Gagnon) Arnoldy on Oct. 4, 1953 in Lewiston, Me.  In 1971 John joined the U.S. Marine Corps and upon completing 2 years of active service including duty in Okinawa, Japan he transferred to the Marine Corp Reserves until 1976. Then he joined the Maine Army National Guard in 1979 and concluded his military career retiring in 2001. Sgt. John Arnoldy held the up most pride in being a Marine and serving his country.
John made his home on Long Lake, St. David, ME enjoying "God's country". As an avid outdoorsman, he loved riding his snowmobile, ice fishing, walking the back woods, and most of all entertaining friends on his pontoon with his wife Lisa. His great pride was his classic Harley-Davidson which he often took to the open road. During the last 8 years John and Lisa enjoyed motorcycle trips throughout Maine and Canada. He was well loved by his motorcycle community; participating in charity rides. John played many sports throughout his life, but he was most dedicated to hockey. His favorite team was the Bruins and he was excited to attend a recent Bruins game in Boston.
Most of all John loved people; swayed neither by age, ethnicity or walk of life. He came with a friendly smile, a funny joke, a forever friend to those he loved. You could count on him to lend a helping hand, expecting nothing in return. He will be greatly missed by all who knew him. He was employed by Fraser Paper for 18 years. Always a hard worker, he was considered a man of many trades.
John is survived by his wife Lisa Gagnon Arnoldy of St. David, his two children, John Paul Arnoldy and wife, Francesca of Hinesburg, Vt, and Crystal Sue Michaud and her fiancee, Mike of Madawaska, three grandchildren, Haysen, Maeven, and Aubrie, three brothers; Paul and wife Kathy, Real and wife Joanne, brother Marc, four nieces, Stacy and partner Darlene, Nicole and husband Justin, Angela, Kathryn May, a nephew Petty Officer 2nd class Josef P. Arnoldy, and 2 great nephews, Hunter and Wil. He was predeceased by his father, Roland and his mother Olivette.
Memorial services will be announced at a later date.