« Obituaries | Amelia Elaine Antonelli
Amelia Elaine Antonelli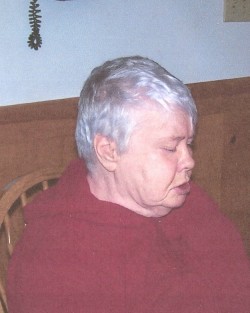 Date of Death: February 25, 2011
Date of Birth: October 15, 1944
Biography:
TURNER — Amelia Elaine Antonelli, 66, died peacefully in her home in on Feb. 25. She was surrounded by her staff and housemate.
She was the only daughter of Firena E. Antonelli of Cornville and Litchfield. She was born Oct. 15, 1944, at MaineGeneral. She was raised by a foster family in the Lewiston area before being admitted to Pineland. She lived and worked at Pineland, doing piecework most of her life. When Pineland closed, she moved into her own home with her housemate in Turner.
She loved three things more than anything. One was her coffee; she loved coffee and would drink many cups per day. She also liked her little orange bead, which she always carried with her. The last thing was strings. She enjoyed pulling little strings off of people's clothing.
I met Nellie, as we all called her, about 10 years ago. It was my privilege to be her friend and guardian — to know and love her. She was a beautiful person and will be missed. She leaves behind her staff and her guardian, Shirley Ann Davison.
 Condolences may be expressed at funeralalternatives.net.