« Obituaries | Ethel H. Angyal
Ethel H. Angyal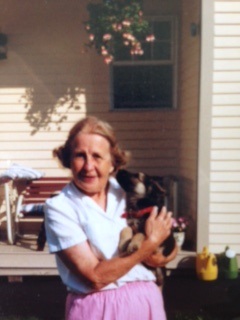 Date of Death: September 2, 2018
Date of Birth: February 5, 1920
Biography:
Ethel H. Angyal died peacefully at age 98 at Sedgewood Commons on September 2, 2018. Born in Philadelphia, she was the second of the three children of Augie and Hilda Platon. Her parents and siblings are no longer living. Ethel grew up in Carle Place, Long Island, New York and attended school there. She was married to John Angyal in Washington, DC, at the end of WW II. The couple subsequently moved to Carle Place, NY, where they lived until 1955, when they moved to Bethpage, NY. After her husband John's retirement, they moved to Cumberland, Maine.
Housewife and mother, she bore six children. Her husband John died in Cumberland on November 1, 1992. Three of her children, John, Elaine, and James, predeceased her. She is survived by three of her sons, Andrew, Joseph, and Thomas; two grandchildren; and three great grandchildren. Ethel was always devoted to her children and providing for their care. She also enjoyed gardening and sewing in her spare time.
Her family gratefully acknowledges the quality of care and support provided to Ethel by the nurses and staff of Sedgewood Commons and Hospice of Maine.
There will be no service. In lieu of flowers, donations may be made to Hospice of Maine.