« Obituaries | Randolph Randy K. Angotti
Randolph Randy K. Angotti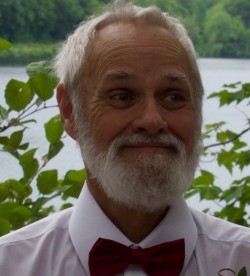 Date of Death: July 17, 2020
Date of Birth: December 7, 1952
Biography:
It is with deep sorrow that we share the passing of Randolph (Randy) K. Angotti. Randy was
born December 7, 1952 (Pearl Harbor Day) in Bridgeport, California to Randolph and Dorothy
(Boucher) Angotti. He passed away on July 17, 2020, at CMMC (ICU) with his family by his side.
Randy attended many schools being in a military family and graduated from Penquis High
School Milo, Maine. Upon graduation, Randy enlisted in the United States Air Force.
Randy became very active in the Republican Party as a teenager and campaigned all over the
State of Maine. After serving in the Airforce Randy continued to be active in politics and became
Door Keeper of the Maine Senate. He would always say he was in the Maine history books
which he is. Randy's life led him into different careers in North Carolina and Maine such as
working with abused children, childcare director, substance abuse counseling, and eventually
managing greenhouses and becoming a Master Gardener. He would always say he loved
working with plants because they didn't talk back.
When Randy eventually found his way back to Maine he met his wife to be Andrea through
mutual friends Tim & Ernestine Wood. Randy and Andrea were married 30 years and 9
months. Randy was very proud of his marriage and how many years they were married. Andrea
and Randy grew there family with t wo sons Zachary Randolph and Randolph Taylor. Randy's
biggest pride was his family. He was so proud of his boys and was never afraid to tell them how
much he loved them or to give them a hug. Family hugs are not uncommon in the Angotti home.
With the joke of mom getting lost because the men all stood over 6 feet tall.
Even after losing his vision to glaucoma, Randy continued to plant his flower boxes. Besides
gardening, Randy loved history and reading. When he could no longer read because of his loss
of vision he turned to audiobooks. He was a very intelligent man and we will truly miss being
able to ask him anything and him being able to share his knowledge. He taught all of us many
things from gardening, repairing cars, cooking, woodworking, plumbing, carpentry, and beyond.
He always cherished the many trips the family took to Vermont and Myrtle Beach over the years
and would often speak fondly of when he was a child traveling to Canada or Millinocket and Old
Town to spend time with family.
A piece of our heart will forever be gone but Randy fought many health problems for many
years. May he rest in peace and pain-free.
Randy is survived by his wife Andrea M. (Roberts) Angotti, sons Randolph of Lewiston, Zachary,
and girlfriend Meaghan Kazregis of Rumford, sisters Linda OHandley of Oregon, sister Jerri
and husband Gerald of Wisconsin, one niece and many nephews, as well as many cousins,
aunts, uncles, many friends, and a couple of extraordinary neighbors Thomas (Red) and Don.
Randy, was predeceased by his mother Dorothy (Dolly), father Randolph (Duffy), sister Janie,
and brother in law Daniel Leo OHandley.
Services for Randy will be held at his home Saturday, August 8th at 1:00 P.M. with military
honors at 1 Loudine Ave. Rumford, Me.