« Obituaries | Barbara Angell
Barbara Angell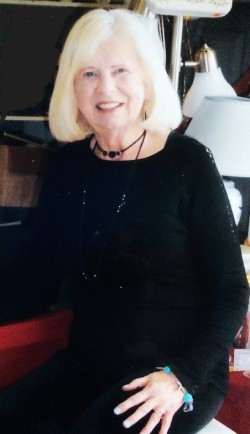 Date of Death: July 28, 2023
Date of Birth: January 14, 1941
Biography:
Bath ME - Barbara Angell, 82 of Bath Maine, passed away peacefully at home on Friday, July 28, 2023, with family by her side. She was born in Bath to Betty and Howard Elliott during a blizzard on January 14, 1941 at home on Ridge Road. Barbara's husband William K Angell predeceased her in November 2021.
She was a social butterfly and people from all walks of life loved her shining personality.  She loved yard saling and had a booth at Ft. Andross in Brunswick for many years selling antiques and Marilyn Monroe memorabilia to homemade fudge. She loved everything red and styled her home, car, and life with this color.
Barbara also known as Mammy to her family leaves behind three children, Theresa (Lyndon) Hanna of Woolwich, Beth Esculano Yuken of Bath, Edward Esculano of West Bath and stepson Norman Final of Augusta; a sister, Carolyn Harris (Kevin) of West Bath; a niece, Lisa (Jay) Roney of Florida and nephew Michael (Norma Jo) Burpee of Phippsburg; grandchildren, Cami (Somchai) Taesuwan of Arrowsic, Danielle Esculano of Bath, Crystal Esculano of West Bath; great grandchildren, Taylor Freeman and Connor Freeman of Bath. Bill's granddaughters, Brittany Angell and İsabell Angell, held a special place in her heart. She also leaves behind her best friend Barbara Bennett of Bath; and caregivers Tammy Holt who was "one of her kids" and the beautiful Savannah Rice who also was part of this family, of Phippsburg. Mammy loved and adored their dog Scruffah, who stayed by her side to the very end.
Special thanks go to CHANS Hospice Nursing Staff who gave her the best care. Your gift of a donation to CHANS Home Health and Hospice is welcome.
A celebration of life for Barbara and Bill Angell will be held on Sunday, October 1, 2023, at 1:00pm at the American Legion in Bath Maine.