« Obituaries | Nan Grindle Amstutz
Nan Grindle Amstutz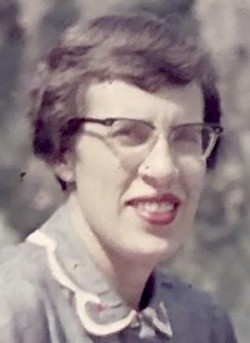 Date of Death: May 24, 2019
Date of Birth: September 29, 1923
Biography:
BRUNSWICK – Nan Louise Grindle Amstutz died on May 24, 2019 in Brunswick, Maine.  She was born on September 29, 1923 in Westborough, Massachusetts to Thomas Scott Grindle and Jennie Alice Grindle, who were both originally from the Blue Hill Peninsula in Maine.
Nan was bright, curious and adventurous.  She attended Radcliffe College and graduated from Connecticut College for Women near the end of World War II.  She was the first female professional in Price Waterhouse's Boston office, and later worked for the U.S. government – first in the Philippines, and then under the MacArthur Administration in Occupied Japan, screening candidates for government employment to ensure they had not been war criminals.  On her return to the United States, she attended The Fletcher School for Law and Diplomacy where she studied international relations and met her husband, J. Bruce Amstutz, who subsequently entered the U.S. Foreign Service.  Five weeks after having her first child, she traveled (alone with the baby) by ship to Indonesia to join Bruce and to research and write her dissertation.  She and Bruce were the first couple to simultaneously receive Ph.D. degrees from The Fletcher School.
As the wife of a diplomat posted to Indonesia, Burma, Pakistan, Afghanistan, and India, Nan drew on her reserve of good sense, level-headed demeanor, intrepid disposition, and intelligence to assist Bruce in his career.  She often joked that early in Bruce's career, she was graded by the Foreign Service in her role as a "good wife partner".
She was a long-time member of the American Association of University Women and of the League of Women Voters, was a voracious reader and enjoyed travel.  Upon Bruce's retirement, they moved to Brunswick, Maine.  They very much enjoyed spending time with friends and family on Louds Island, in Muscongus Bay, Maine, where she was a vital member of the community.  She continued to charm her family and friends with delicious and inventive cooking in Brunswick and on Louds Island. 
Nan was predeceased by her parents, her sisters, Priscilla and Jane, and her brother, Arthur, who died at the Battle of the Coral Sea during WWII.  She is survived by her husband of 67 years, her sons, Eric and his wife, Deidre (Greenville, SC), Timothy and his wife, Dawn (St. Paul, MN), and Mark and his wife, Barbara (Swarthmore, PA), as well as her beloved grandsons, Andrew (Little Rock, AR) and David (New York City, NY), and step-grandson Jefferson and his wife Kathryn and two step-great grandchildren, Josephine and Simon (Philadelphia, PA).
A memorial service is planned for August 2019 (date to be announced) at the Louds Island Church, Muscongus Bay, Maine.  In lieu of flowers, gifts may be sent to The Maine League of Women Voters' LWVME Education Fund, P.O. Box 863, Augusta, ME 04332, to Connecticut College, 270 Mohegan Avenue, New London, CT 06320 or to the Loudville Church Society, c/o Michael Chaney, Treasurer, 190 Golden Ridge Road, Alna, ME 04535.