« Obituaries | Carlton "Tommy" Ames
Carlton "Tommy" Ames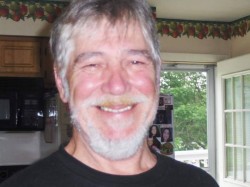 Date of Death: February 28, 2015
Date of Birth: March 17, 1947
Biography:
Carlton T. "Tommy" Ames, 67, of Auburn Me passed away 0n Feb. 28th, 2015 at his home.
He was born on March 17th, 1947 to parents Carlton and Frances (Hester) Ames.
Tommy was a member of the NRA and enjoyed the outdoors. He liked hunting, rock hounding, and spending time with his beloved Donna.
He was predeceased by his parents, and a brother, Gary.
Tommy is survived by his companion, Donna Martin; 3 children; 9 grandchildren; one sister; and 3 brothers.
A graveside service will be announced in May on Facebook. In lieu of flowers, donations may be made in his memory the Greater Androscoggin Humane Society, 55 Strawberry Ave. Lewiston, Maine 04240.