« Obituaries | Norman R. Aloisio
Norman R. Aloisio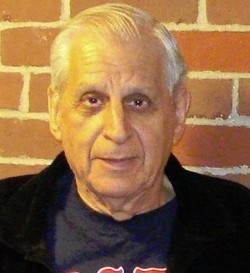 Date of Death: June 5, 2016
Date of Birth: December 1, 1938
Biography:
Norman Roger Aloisio, 77,  passed away peacefully at home, surrounded by the love of his family on Sunday, June 5, 2016 after a 5 year battle with colon cancer. 
He spent his early years at Ernie's Drive-in where he was a cook and met his wife Ellie.  They spent 57 years together.  He also worked for 40 years at Eastland Shoe in Freeport until they closed the doors in 2001.  He continued working after retirement at Day's Variety making sandwiches until 2011 when Day's closed and he was diagnosed with cancer.
Norman enjoyed many things including his family and friends.  He also loved to attend horse racing at Topsham, Windsor and Fryeburg fairs.  He was a lifetime member of the Topsham Fair Association.  His grandchildren and great-grandchildren were of special delight to him.  He was always on the go and seemed to know someone wherever he went.  He was a tinkerer and given time could fix most things.  He loved to take bus trips to Foxwoods and it was even better IF he could win something.  He never missed a Boston Red Sox game and loved attending games in Boston, especially when the Yankees were playing and losing. He also like to watch the Patriots play football.   His cats, Boston and Sox will miss watching the games with him.  Norman never met a meal he didn't like, especially lobster!
Norman participated in Relay for Life for the past 5 years.  He was especially proud to be able to place his handprint on the banner and to walk the survivor's lap.  Before taking to his bed for the last time he once again placed his handprint on the banner at his past year's event.
 Norman is survived by his wife, Ellie; his daughters Theresa Poliquin and her companion David Jolicoeur; and Nancy Aloisio; three grandchildren Ricky and his fiancé Sandy, Heather and her husband James and Allie, and six great-grandchildren Kyra, Hayden, Jonah, Landan, Gabe and Cameron.  Also, surviving sisters, Jackie Simmons and Nancy Warren.  There are several nieces and nephews that were close to him.  Norm had a number of brother and sister-in-laws that were special to him.  He also considered a number of his close friends to be his extended family.
Norman is predeceased by his parents Peter and Germaine; a brother, Peter; and a sister, Rita. 
The family wants to extend a HUGE thank you to Dr. Chase, Dr. Boyd and Dr. Bird and their offices for the exceptional care and treatment of Norm.  Also, the nursing staff at Midcoast Hospital who came to know him during his 15+ visits in the last year and fought over who would be caring for him. 
There will be a service and celebration of life at the Pathways Vineyard, 94 Pleasant Street, Brunswick at 1pm on Saturday, June 18th.  In lieu of flowers please donate in Norman's name to your favorite charity. Arrangements are under the care of Funeral Alternatives 155 Bath Rd. Brunswick, ME www.funeralalternatives.net