« Obituaries | Dr. Thomas T. Allen
Dr. Thomas T. Allen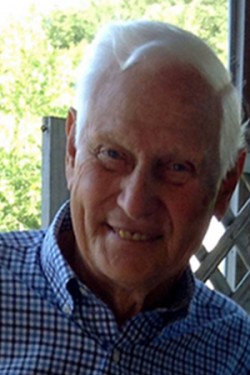 Date of Death: October 14, 2017
Date of Birth: October 8, 1923
Biography:
TOPSHAM - Dr. Thomas T. Allen died at home on October 14, 2017. He was born in Kirksville, MO on October 8, 1923, to Drs. Mason H. Allen and Margaret Baker Allen.

He attended local schools and graduated from So. Portland High School in 1941. He entered the University of Maine in 1941 and his education was interrupted during World War II from 1943 to 1946 while he served in the U.S. Navy. He completed his pre-medical in 1947 and received his B.S. degree in 1975. Dr. Allen graduated from the Philadelphia College Of Osteopathic Medicine in 1951 and served his internship at the Osteopathic Hospital of Maine (now part of Maine Medical Center). He established a family practice in Limington, Maine following which he completed his surgical residency from 1953 to 1956 at the Osteopathic Hospital Of Maine. He served as a general surgeon at the former York Harbor and Tri-county Osteopathic Hospital before returning to the Osteopathic Hospital Of Maine as a general and urological surgeon from 1962 until his retirement in 1987. He was a lifetime member of the American and Maine Osteopathic associations and a member of the staff of the Osteopathic Hospital Of Maine for 35 years. He served as past vice chairman of the medical staff and designated trainer of surgical residents. Dr. Allen was also a lifetime member and Fellow of the American College Of Osteopathic Surgeons. He was a member of the clinical faculty of the University Of New England College Of Osteopathic Medicine and taught many students in surgery. He was a past member of the Portland Yacht club, Casco Bay Power Squadron and the Maine and National Audubon Societies.

On August 18, 1950, Tom married the love of his life, Nancy Ratcliffe Allen. He shared her passion for exploring all that life had to offer. They sailed the Maine and Canadian coasts for over fifty years in their sailboat "Seafever", skied, hiked Baxter State Park, the Appalachian Trail and canoed the Saco, Allagash, and St. John rivers. They enjoyed travels to China, Galapagos Islands, Antarctica, So. Africa, Costa Rica, Tanzania, Ecuador, Venezuela, Canada, and many states in the U.S. as well as driving to Alaska via the Alcan Highway. Most of all they enjoyed relaxing at their summer home in South Harpswell with family and friends or spending time in their cabin on a beautiful Casco Bay Island.

He was predeceased by his wife, Nancy in 2014 after 63 years of marriage.

He is survived by a brother Roger B. Allen of So. Portland and four children, Cathy, her husband Bill and their children, Chris and Lindsey; Thomas T. Allen Jr. and his daughter, Gabrielle; Mark and his wife Phaiwan; and Margaret and her husband Michael and their son, Mason; four great-grandchildren, Calvin Allen Bergh, Van Clive Abbott, Jones William Abbott and Ellewyn Lura Bergh.

Funeral Alternatives will handle the arrangements. A private family service will be held at a later time. We would like to thank all of you who knew and loved our dad. You made a difference in his life as we know he did in yours.