« Obituaries | Jason K. Alexander
Jason K. Alexander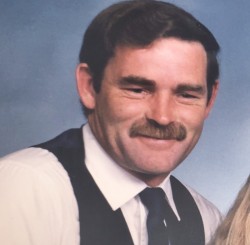 Date of Death: January 8, 2020
Date of Birth: May 28, 1960
Biography:
Jason Kenneth Alexander, age 59 quietly passed away on January 8, 2020 at his home in Bowdoin after battling a long year of cancer.  He was born on May 28, 1960 in Brunswick, the youngest of seven children to his now deceased parents Kenneth Alexander originally from Cundy's Harbor and his mother Jacqueline Skelton originally from Brunswick. 
He is survived by his wife Kathleen Lane Alexander of 36 years, his son Jerry Alexander daughters, Angela Alexander, Chantelle Alexander and Elizabeth Alexander.  He is also survived by his nine grandchildren, Zane Alexander, Grant Alexander, Kya Alexander, Blaine Paradis, Kerstin Paradis, James Paradis, Hayli Paradis, Addisyn Travierso, and Carson Ouellette.  Also, he is survived by his sisters Brenda Uhle and her husband Michael Uhle, Elaine Kelly and her husband Kevin Kelly, his brother Spencer Alexander and many aunts, uncles, cousins, nieces and nephews.  He is predeceased by his sisters Cindy Lebourdais and Cheryl Bathurst and brother Robin Alexander.
Jason was a member of the Local Laborer's Union #327 out of Augusta.  He mostly worked and helped build the Power Plants along the East Coast.  As a foreman at Maine Yankee, he was part of the decommissioning crew and enthusiastically watched the dome collapse.
He was very capable and could do most anything.  He owned a recycling and towing business employing many of the young boys in town.  His favorite and last business was a handy man service.  Here he was able to cater to the elderly knowing they were getting quality work at a reasonable cost.  He so enjoyed listening to their interesting stories and giving them his time.
Jason could often be found tinkering in his shed listening to the radio while creating hand-made wooden chests, bird houses, benches or finishing a project for a friend.  He loved it when his children and grandchildren came in for a visit.  They would leave with a little craft they made and an earful of knowledge and kind words of advice.
He knew how to have a good time with or without money.  He was spontaneous and adventurous.  He liked to ride around the countryside throwing a line in a brook, hitting a few yard sales, discovering a hidden hiking trail or spending an unexpected night at a campground.
Jason chose the best part, loving deeply and relating to people of all ages.  "Pa" was, and still is his called name by many many teens he befriended over the years.  He fiercely protected everyone he loved and was not shy to say he loved you.
Lots of memories he left for those who knew him.  The missing is great.  We will carry on all the while longing for the day when we will meet him again.
So come join in celebrating his life.  Bring a story and a dish to share on Saturday, April 25th at the Litchfield Sportsman's Club, 2261 Hallowell Road from 1-4.