« Obituaries | Candace Cameron Alden
Candace Cameron Alden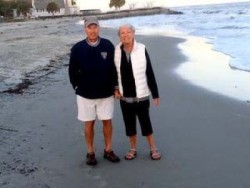 Date of Death: July 20, 2023
Date of Birth: September 4, 1947
Biography:
Candace Cameron Alden died on July 20, 2023, in Auburn, ME. She was surrounded by the love of her family.
Candy was born on September 4, 1947, in Beverly, MA. She was the eldest daughter of John D. Cameron of Tewksbury, MA and Carolynn Parkhurst Cameron of Presque Isle, ME and was raised in Presque Isle. She graduated from Presque Isle High School in 1965 and Bates College in Lewiston, ME in 1969. It was there that she met her husband, James (Jim) Alden and they were married in Presque Isle in May of that year.
She devoted her professional life to public education. She taught and counseled students at Auburn High School (MA) until she and Jim moved back to Maine in 1974 to raise their children, Caroline and Daniel. She resumed teaching in 1989 in Auburn (ME) and was one of the first teachers at the C.P. Wight alternative education program for at-risk Auburn middle and high school students, working under the direction of David Eretzian. It is now known as the Franklin-Merrill Hill Alternative School. She provided class instruction as well as a listening ear and compassionate guidance to her students, many of whom have continued to reach out to her over the years.
She and Jim, along with the children, spent 17 summers working at Camp Susan Curtis in Stoneham, ME. Its purpose is to provide a tuition-free nurturing summer camp experience to Maine children facing economic hardship. Candy's skills as an understanding listener and counselor to attendees and staff were invaluable to the Camp.
Throughout the years, she and Jim have anonymously donated food and clothing to those less fortunate, whether that be the women's shelter, the food bank, or the children in the public school system, among others. She was passionate about sharing what she had with those who did not.
in the early 1990s she and Jim purchased a camp on Whitney Pond in Oxford, ME. It became her "favorite place on earth," and she found peace sitting on the screened porch listening to the loons on the water and reading or chatting with friends and family. She retired from teaching in 2009 and travelled every winter after that to enjoy the beauty and warmth of St. Simon's Island in Georgia, until Covid brought that to an end in 2020. She loved cooking at home, and nearby senior neighbors could depend on "just a few things" on a plate delivered by Jim or another family member, just in time for "supper." She enjoyed reading and always braked for yard sales or thrift shops. She deeply cherished her family and friends, and cultivated lifelong relationships with them, which were nourished through frequent get-togethers over the years. She will be dearly missed by all those who loved her.
Her favorite role in later life was as "Ganya" to her three beloved grandchildren, Harper, Sarina, and Celia. Candy lit up in their presence and excelled at choosing just the right gift or baking the perfect cookie or treat. Time spent with the grandchildren always included lots of fun and laughter; those wonderful and loving memories will be treasured forever.
Candy was predeceased by her parents, a brother-in-law, Christopher Hooson, and a sister-in-law, Donna Alden Shepherd. She is survived by her husband of 54 years, Jim Alden; her daughter and best friend, Caroline (Carrie) Alden and her husband, Rob Borden, and son, Harper, of Auburn, ME; her son Daniel Alden and his wife, Magda, and their daughters, Sarina and Celia, of Gorham, ME. She also leaves behind her devoted sisters, Julia Cameron and her husband, Robert Benson, of Falmouth, ME, and Rosemary Hooson, and her husband, Jerry Clancy, of Wakefield, MA; along with numerous nieces and nephews.
A private family remembrance is planned.
In lieu of flowers, donations may be made to: Safe Voices, PO Box 713, Auburn, ME 04212; or online at: safevoices.org.