« Obituaries | Terry D. Adams PhD.
Terry D. Adams PhD.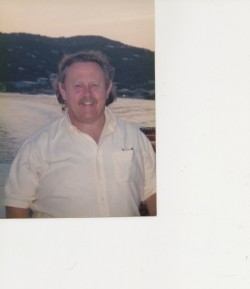 Date of Death: February 12, 2015
Date of Birth: January 10, 1947
Biography:
Terry Donovan Adams, 68, passed away at his home on Thursday, February 12, 2015, surrounded by loved ones. His death followed a long journey with cancer that he faced with great courage, resolve, and strength.
He was born on January 10, 1947, in Portland, Maine; grew up in Richmond, Maine; and resided in Winthrop, Maine, for most of his adult life.
Terry was a lifelong learner, who had the ability to accomplish whatever he put his mind to, from construction to advanced degrees. His secondary education began with an associate's degree in civil engineering from the University of Maine at Orono in 1967.
He served in the United States Army during the Vietnam War, and was honorably discharged with the rank of Sergeant. He received the Army Good Conduct Medal and the Army Commendation Medal for Meritorious Service.
In 1977, he became founder and owner of North by East Associates, a land-surveying and soil-testing business. The Gardiner-based business is still in existence today.
An intelligent and learned man, Terry went on to earn subsequent degrees in areas related to his lifelong field of endeavor: social work and social policy. He garnered a bachelor's degree in psychology from the University of Maine at Orono in 1974; a master's degree in social work from the Boston College School of Social Work in 1996; and a doctoral degree in social policy and research from the Heller School of Social Policy at Brandeis University in 2006.
As an adjunct professor at the Boston College School of Social Work, and as an associate professor at the University of Maine at Augusta, where he had taught mental health and human services with a focus on addictions since 2004, it brought him great joy to inspire, mentor, and teach students.
His career also consisted of becoming a licensed clinical social worker and serving as an outpatient therapist at Kennebec Behavioral Health in Augusta, Maine, where he touched countless lives with his care and concern. His unique combination of ambition and generosity enabled him to offer well-informed and deeply meaningful guidance and support to those struggling with addiction and mental health challenges.
Terry was an avid traveler and lover of the outdoors. He relished his trips to St John, Virgin Islands, and Nova Scotia; across the United States; and most recently, to Ireland. He took tremendous pleasure in boating to Merrymeeting Bay and on Cobbossee Lake, including sunset cruises with Chuck and friends; making annual treks in to Baxter State Park; and hosting annual winter sliding parties.
Terry was an extrovert, who loved to dance and talk. His robust laughter was infectious and a gift to all who knew him.
Terry is survived by his wife Susan G. Beckwith; his daughter Jodi Adams of San Francisco, California; his sister Donna Leland of Bangor, Maine; his cousin Sonja Carter of Hamden, Maine; and many extended family members and friends.
He was predeceased by his parents Azel and Marguerite Adams and his cousin Sidney Doughty.
A private celebration of Terry's life will be held this month in Augusta and his ashes will be interred this summer in Richmond.
In lieu of flowers, memorial contributions may be made to Terry D. Adams Memorial Fund, PO Box 93, East Winthrop, ME 04343