« Obituaries | Glenna B. Adams
Glenna B. Adams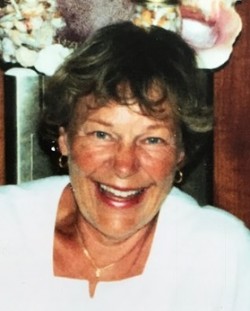 Date of Death: March 18, 2017
Date of Birth: August 8, 1947
Biography:
HALLOWELL - Glenna Billings Adams, 89, passed away peacefully on March 18, 2017 at her home surrounded by her loving family. Born in Brewer on November 10, 1927, she was a daughter of Ralph M. Billings and Elvie (Payson) Billings of Bangor. Glenna graduated from Bangor High School, attended Boston Bouve School of Physical Therapy, (Tufts University), and completed her bachelor's degree at The University of Maine.
Glenna met Marvin Adams, the love of her life when he steered his Chris-Craft past her family camp on Cold Stream Pond in Enfield. They eloped and were married on August 8, 1947. Glenna raised their family of four while Marvin completed his medical internship and residency, eventually settling in Cape Elizabeth. She took care of the business end of Marvin's successful ENT practice.
With infinite patience Glenna sailed with Marvin and their children up and down their beloved Maine coast and beyond. Glenna participated in activities that were close to her heart. As an avid gardener she was a member of the Cape Elizabeth garden club and participated in creating the memorial garden at St. Alban's Episcopal Church. As a physician's wife she was active in the Maine Women's Auxiliary. As a lover of history she became a docent at the Portland Harbor Museum later in life.
Glenna had a competitive spirit and one of the things she loved best was playing bridge. Her children have vivid memories of the many bridge parties that she hosted, and the desserts they couldn't have since they were meant for the bridge ladies. It was important to our mother that we succeeded wherever our talents led. This support also extended into her grandchildren's lives when she and Marv opened their home to two of her grandchildren while they completed their educations.
The essence of Glenna is captured in the following words: daughter, wife, mother, sister, nanny and great nanny, aunt, friend, caretaker, groundskeeper, financial guru, lover of all things garden, football enthusiast, keen traveler, incredible cook and baker, and master knitter. She had a wonderful sense of humor, a quick wit, and the heart of a lawyer and politician. Our mom was a woman who saw the wonders of the universe in the thrill of music, the beauty of a growing flower, the companionship of a bulldog named Chaucer, and a great grandchild in her arms.
Glenna took loving care of her husband Marvin in the last years of his life. She was also predeceased by her sister, Barbara Tarkinson and brother, Morton Billings. Surviving are her four children, April V. Adams and her husband Dana McEacharn of Machias; Victoria A. Lindquist and her husband Eric of Augusta; Susan E. Adams of Brooklyn, NY and Stephen A. Adams and his wife Caitlin of Denmark, Maine. Glenna leaves four grandchildren; Aludra McLaughlin and her partner Mark Fishilevich, Libby Loiko and her husband Benjamin, Matthew Lindquist and his wife Jessica, and Eric Adams and his wife Emily. Also surviving are 10 great grandchildren; sisters in law, Pamela Adams and Lucille Billings; and numerous nieces and nephews, including her special niece Linda Carey.
The family would like to thank the Granite Hill staff; from maintenance to food service, and office to caregivers for the kind, compassionate, and loving care they provided to Glenna over the last four years of her life.
A memorial gathering will be held on Friday, March 24th at 11am at Granite Hill Estates, 60 Balsam Drive in Hallowell.
In keeping with Glenna's love of the coast of Maine, donations may be made in her honor to:
The Nature Conservancy for the Basin Preserve Endowment. Checks may be payable to "Nature Conservancy in Maine" with 'Basin Preserve Endowment' in the memo area and sent to 14 Maine Street, Suite 401, Brunswick, ME 04011 or call Kelsie Tardif at (207) 607-4832.