Burial and Funeral Services
Simplified, low-cost burial and funeral options that are flexible and designed to meet the needs of your family and budget. Contact us to learn more.
Traditional Burial with Funeral Service
$5,325.00 complete ~ Includes the following:
Metal Casket
Minimum Cement Grave Liner
Hearse
Visiting Hours and Funeral Service
Forms for this Page:
Obituary Outline Form (PDF file - requires Acrobat Reader)
Obituary Outline Form (Microsoft Word file)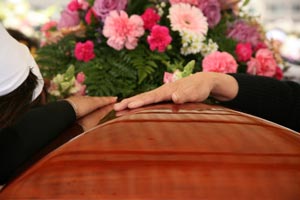 All Services Include
Arrangements Conference
Removal of Remains from Place of Death
Embalming (Traditional and Visiting Only)
Obtaining ALL State Permits
Filing of Certificate of Death
Social Security Report of Death
Applicable Veterans Administration Forms
Construction and Submission of Obituary
All Services Do Not Include
Certified Copies of Death Certificate
Cemetery Fees
Newspaper Fees
Clergy/Church Honorarium
Not sure which package will best fit your needs? Just contact us and we would be happy to assist you with your selection.