« Obituaries | Merritt "MOW" Wright Jr.
Merritt "MOW" Wright Jr.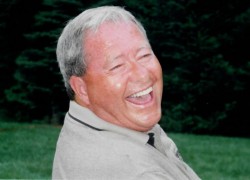 Date of Death: August 28, 2018
Date of Birth: January 21, 1942
Biography:
Merritt O. Wright Jr.--Cumberland--Merritt O. Wright Jr. "MOW" passed away on Tuesday, August 28, 2018 at his home with his family by his side. Merritt was born in Portland, Maine on January 21, 1942 to Merritt O Wright Sr. and Ruth Devine Wright, both of whom predeceased him. He graduated from Chatham High School in Chatham, MA in 1961 and then attended Maine Maritime Academy. He joined the Coast Guard in 1963 where he served for over 20 years. Merritt was also a longtime member of the Free Masons and a past Master of the Casco Bay Lodge #36 in Yarmouth, Maine. Since his youth he was an avid fisherman and loved hunting, and spending time at "deer camp" with his friends. He also had a civilian pilots license and enjoyed flying. Mostly though he enjoyed spending time with his family and friends who will dearly miss his sense of humor and his ability to tell an entertaining story or humorous past experience anytime of the day or night under any conditions. Merritt is survived by his wife of 54 years, Linda Wright, sons, Sam Wright, Gary Wright and grandchildren Anya, Quincy and Adelyn Wright and Gerik Bialorucki. He is also survived by his sister, Joyce St. Pierre and husband George Nemeth of Harwich, MA along with Joyce's children, Allen, Paula and Shanon St. Pierre. A memorial service will be held on Sunday, September 9 at 1 p.m. At the Casco Bay Masonic Lodge, Mill Street, Yarmouth.