« Obituaries | Ruth B. Warren
Ruth B. Warren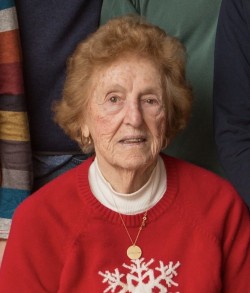 Date of Death: February 19, 2020
Date of Birth: May 16, 1930
Biography:
Ruth B. Warren
Ruth B. Warren, age 89, died peacefully on February 19, 2020 while at MidCoast Hospital. She was hoping very much to get back with her friends at the Maine Lodge.
She was born on May 16, 1930 to Milton and Ethel Brethen of Rochester, New York where she lived for most of her life. She was a devoted wife and mother and was especially attentive to her own aging parents. Ruth was an avid golfer, gardener, bridge player and crafter. She loved working on a variety of projects, holiday wreathes, Christmas angels, decorative eggs and floral arrangements. She was a volunteer at the local hospital and
helped manage the gift shop as well as visiting with patients. She was fortunate to have traveled to many places like Hawaii, Australia, New Zealand,  Sweden, Greece, Japan, England and Scotland.

Ruth and Bill moved to Maine in 2004 and lived in the Highland Estates for many years. They enjoyed winters in Florida on Long Boat Key and summers at their camp on Sebec Lake in DoverFoxcroft. Camp was always full of children, grand children and friends as well as the many projects that are a part of owning a camp in Maine.

Ruth was predeceased by her husband, Bill, in 2017, and her daughter, Cindy Smith of Harrisburg, Pennsylvania, in 2016. She is survived by her brother, Robert H. Brethen of Dayton, Ohio, her son, Rick and his wife, Sandy, of Freeport, four grandchildren, Cheryl Rickert of Washington Crossing, Pennsylvania, Janice Smith of Hillsborough, North Carolina, Cory Warren of Freeport, Maine and Kyle Warren of South Portland, Maine. She was also
fortunate to have had three great-grandchildren, Lucas, Joshua and Lydia.