« Obituaries | Archie Vernon Sawyer
Archie Vernon Sawyer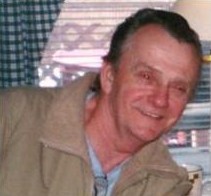 Date of Death: October 12, 2012
Date of Birth: August 12, 1945
Biography:
Poland- Archie Vernon Sawyer died on October 12 2012 at home surrounded by his much loved family.
Archie was born to Araminta and Melon Sawyer August 12, 1945. He married the love of his life Rena Gagnon 50 years ago.
Archie was self-employed and worked very hard to maintain a good business reputation. He loved working and enjoyed all his coworkers Pike industries.
Archie is deeply missed by Rena and sister in law Loretta Enman (of 50 years.) Archie was a very dedicated family man and his children knew without a doubt that he loved them all deeply and without reserve. He enjoyed spending time with his family, his dog, fishing, working in his yard watching wildlife and collecting antiques for his family. Archie took much joy in working with his sons and chatting with his daughters while having coffee. His sense of humor, strong opinions, singing and whistling and his love of life are missed by all who knew him. The impact of our loss can't be put into words.
He leaves behind his beloved wife Rena, daughter Carol Cook & son in law Jesse Cook, son Steven Sawyer, daughter Tina Cotton and son in law Ray Cotton, son Jarrod Sawyer and son Joshua Sawyer, sister in law Loretta Enman, sister Bonnie Gould, brother Jeffery Sawyer r & sister in law Sandra Sawyer, and sister Valeda Edwards, grandchildren Ashlie and Adam Cotton, Michael and Heath Cook, Brandon Roux, Alyssa McQuade, Caleb and Cody Sawyer, Christina Edwards, Hannah and Jillian Sawyer, and great grandson Kason Coffin. He will be missed by dozens of nieces, nephews, in-laws, friends and his best friend Dick Gagnon.
He joins in heaven his parents Amanita and Melon, Sister Sue Gagnon, brother in law Larry Gould, his brother in law David Gagnon, his childhood friend Lotti, and his mother and father in law June and Rene Gagnon.
A special thank you to Pat, and also a special thanks to the wonder Beacon House and our angel Jessica Meserve, also to Linda McSherry and Shelly Thorpe at Stephens Hospital.
As per wish of Archie there will be no service except for family.
Dad we know you're in heaven and hold a place for us all. You were the glue that held us all together. We love you and miss you beyond words.