« Obituaries | Jacqueline M. Ruest
Jacqueline M. Ruest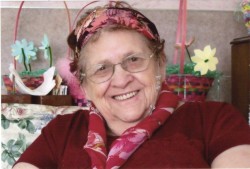 Date of Death: May 29, 2021
Date of Birth: May 16, 1934
Biography:
LEWISTON-Jacqueline M. Ruest, 88, of Lewiston passed away at Montello Manor peacefully after a long battle with dementia with her family by her side.
She was the wife of the late Joseph Rene Ruest. She was born in Van Buren Maine on May 16th, 1934, the daughter of Memory Sophie and Leon Jacques of Van Buren. She was a housewife, mother, and a grand mother, and that was her passion in life. She had unconditional love for her children. She enjoyed spending time with her children, grandchildren, and great grandchildren, and also enjoyed music.
She is survived by her sons. Rene Ruest and his wife Bonnie, Fred, Frank, Alan and his wife Sheri, and Albert.; two daughters Nancy St. Hilaire and her husband, Roland, and Marieange Linda Ruest; her grandchildren Holly, Chad, Claire, Laurie, Amy, Amanda, Theresa, and Renae; and several great grand children.
She was predeceased by her husband; son Daniel Ruest; and a grandson, Larry Arthur Ruest.

A graveside committal service will be held at 1pm on Wednesday June 8th, 2022 at Pine Street Cemetery on Old Danville Road in Auburn, Maine.