« Obituaries | Franklin Heath Rodman
Franklin Heath Rodman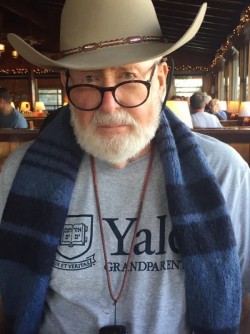 Date of Death: January 12, 2022
Date of Birth: March 15, 1939
Biography:
Franklin Heath Rodman
March 15, 1939 - January 12, 2022
Franklin (Lin) Heath Rodman, of Harpswell, Maine passed away peacefully on Jan 12, 2022 at Horizons Living and Rehab Center in Brunswick, with his daughter Betsy by his side. He was 82 years old.
Lin was born on March 15, 1939 in Brookline, MA to Oliver Hazard Perry Rodman and Dorothea (Heath) Rodman.  He grew up in Brookline and attended the Park School (Class of 1953), Rivers Country Day School (Class of 1957), and Boston University School of Public Relations and Communications, where he studied Journalism. His religious background was Unitarian, and as a child he attended the First Parish Church in Brookline, MA.
From 1960-1995, Lin was a United States Professional Tennis Association (USPTA) teaching pro.  He got his start as a young boy at the Duxbury Yacht Club (Duxbury, MA) under the tutelage of famed Harvard Coach Jack Barnaby. Lin taught tennis at a number of clubs in Massachusetts over the years, including The Country Club in Brookline and the Dedham Country and Polo Club.  He also taught summers in Maine, at the Portland Country Club, and in Yarmouth.
Lin always had a lifelong love of Maine, where he spent every summer creating beautiful memories with his children. In 1983 he followed his dream and moved to Maine full time, living on Westport Island, Orr's Island, and then finally settling in Harpswell.  Along with continuing to teach tennis, Lin also sold real estate for a number of years, working with Seguin Realty and Re/Max in Bath.
After the tragic loss in 1995 of his son and daughter-in-law, Flicka and Jane Rodman, Lin trained as a bereavement counselor and ran a grieving parents support group in the early 2000s through Hospice in Brunswick. During those years he lovingly supported many people through the unique tragedy of child loss, and continued to do so even after he was no longer actively volunteering with Hospice.
Years of fishing and hunting with his father Oliver instilled in Lin a deep love of the outdoors, particularly the woods and the ocean of New England.  He cherished the peace of solitude in the wilderness and the daily parade of birds and wild creatures he encountered. Plants, both wild and domestic were equally treasured, and the man had an astounding green thumb, surrounding himself with thriving house and garden plants. Other hobbies included fishing, boating and birdwatching. He was an avid gun collector, and prided himself on being descended from Thomas Jackson Rodman, a Civil War General and inventor of the Rodman Gun. One of his favorite trips in recent years was to the Fort Knox Historic Site in Prospect, ME, which houses four Rodman Guns.
Lin had a great natural singing voice, sang barbershop quartet in his earlier years, and played bluegrass banjo. He adored his dogs - yellow labs all: Cholls, Loki, and Loki Too. Rarely was he seen without one of his beloved pooches by his side.  Lin was a lifelong lover of words, a phenomenal writer and an inhaler of books. He could be a bit curmudgeonly at times, but only when called for, and underneath that sometimes gruff exterior was a heart of gold and a hilarious sense of humor. He was a great listener, and had the knack of making anyone who met him feel special, always making a point of introducing himself and calling you by your name (and then usually coming up with at least one good-hearted nickname for you).  Lin loved to hang out and shoot the breeze with anyone who had the time or inclination, and he was the most generous person many of us will ever know - always helping purely for the joy of being able to help, with no expectation of return. He was a true gentleman -  a man of deep integrity, honesty, and kindness. He always followed his heart, loved to laugh, and was a loyal friend to many.
Above all, Lin was a devoted father.  He became a dad at age 23, and for the rest of his life, this was his most treasured role. His children and grandchildren meant the world to him, and nothing took precedence over them. They brought him no end of joy and pride (and the occasional worry).  To his very last days, he bragged about them all to anyone who would listen, and told them daily how much he loves them. He will be deeply missed, but he lives on powerfully in our hearts, and we find comfort in knowing that he is now reunited with his beloved son, parents, and brothers.
Lin is survived by his daughter Betsy of Tomkins Cove, NY, and his two beloved grandchildren: Glen Kalliope of Washington Heights, NY and Phoenix (Dalto) of Tomkins Cove. Also surviving are sister-in-law Cynthia of Hingham, MA, former wife and mother of his children Barbara (Perry) of Candler, NC, many nieces and nephews, and his sweet and faithful canine sidekick Loki.  He is predeceased by his son Franklin (Flicka) Heath Rodman, Jr. and by his two brothers Oliver and Reginald.
A celebration of life will be held for family and friends in Maine at a later date.
Communications may be sent to:
Betsy Rodman
50 Rosetown Rd.
Tomkins Cove, NY 10986
makelemonade@optonline.net
Donations in Lin's memory can be made to:
Matthew P. Rodman Scholarship Fund
℅ The Chewonki Foundation
485 Chewonki Neck Rd.
Wiscasset, ME 04578
OR:
Friends of Fort Knox
PO Box 456
Bucksport, ME 04416
"I went to the woods because I wished to live deliberately, to front only the essential facts of life, and see if I could not learn what it had to teach, and not, when I came to die, discover that I had not lived." - Henry David Thoreau