« Obituaries | Sandra Jean Munster
Sandra Jean Munster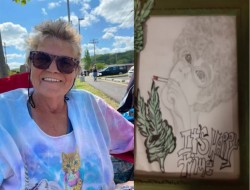 Date of Death: August 25, 2021
Date of Birth: August 20, 1957
Biography:
AUBURN-Sandra Jean Munster, 64, passed away peacefully on Wednesday, August 25, 2021, surrounded by family. She was born on August 20, 1957, in Cleveland Ohio to Lawrence and Florence (Shoop) Tracy.
As she would say "I got stoned and missed it."
She is loved by all who knew her, most called her Nan. She would always make everyone around her laugh, you never knew what she was gonna say. She simply was an amazing, kind, understanding, outspoken person, the best kinda friend one could have.
She was an amazing mom and nana, loving them more than anything in this world. She has always loved kids, running daycare for many years, as well as working at Hathaway and Husseys general store.
She is predeceased by her mom, Barbara Tracy; and big sister, Patricia Chute; father, Lawrence Tracy; and brother, Carlton Tracy.
Sandra is survived by her estranged husband, Philip Munster; daughters, Barbara Jones and Paige Munster; sons, Philip, Jeremy, and Ricky Munster; brothers, Eddie Tracy and Larry Tracy; many grandchildren; nieces and nephews.
In lieu of flowers, donations may be made in Sandra's memory to:
Margaret Murphy Center for Children
415 Rodman Road
Auburn, ME 04210
Condolences may be left at https://www.facebook.com/FALewiston and https://www.funeralalternatives.net