« Obituaries | John H. Hutchinson Sr.
John H. Hutchinson Sr.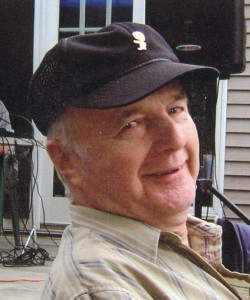 Date of Death: July 4, 2011
Date of Birth: April 3, 1930
Biography:
AUGUSTA  -John H. Hutchinson SR., 81, passed away on July 4th, 2011 at home with his children after a courageous battle with cancer.
John was born in Augusta on April 3rd, 1930, the son of Mary Foley and Chester Hutchinson.
John was a life long resident of Augusta and resided on Drew Street. He was educated in Augusta Schools and proudly served his country in the Army at Ft. Dix, NJ from 1954-1956 during the Korean War. John returned to Augusta and worked for the Augusta News Co. He later became employed by the US Postal Service as a letter carrier, retiring after 36 years of service. He met Edna M. Frost, and they married on August 31st, 1957. They were proudly married for 53 years.
John's life revolved around his family. He had many interests that included going to kids games, teaching them to hunt and fish, watching the Boston Red Sox, gardening, and spending time at his log cabin on Lake Cobbossee. After he retired he began to make log furniture and loved to share his designs with family and friends.
John greeted everyone with a smile on his face, a toothpick in his mouth and a joke. His determination to live was strong so he could guide his grandsons on their path of life. Now he guides us as "Our Angel" The family would like to thank the Maine General Health Reach Hospice Staff, Karen, Donna Lee, Sue, Dodie, and Wendy, Dr. Derrick Tooth and Dr. Robin Locke with the Alfond Cancer center for their loving care throughout this past year.
John was predeceased by his wife, Edna M. Hutchinson on Dec. 26th, 2010.
He is survived by one Daughter, Vicky L. Baker of San Diego CA; three sons, John H. Hutchinson Jr. and wife Debbie of Chelsea; Jeffrey J. Hutchinson of Augusta, and Michael J. Hutchinson of Readfield; one brother, Ralph Hutchinson of Chelsea; three sisters, Madeline Bragdon and husband Sterling of Vernon, CT, Mattie Vaughan of San Diego, CA, Cathy McKay and husband Bob of Chelsea, four grandsons, Dylan M. Hutchinson and Max M. Hutchinson of Augusta, Shawn Hutchinson of Scarborough, and Eric Hutchinson of N.C.; one great-granddaughter, Dahlia Hutchinson of Scarborough, and numerous great nieces and nephews, an many friends.
A graveside burial service with military honors will be held for family and friends at on Monday, July 11th  at the Maine Veteran's Cemetery, 163 Mount Vernon Rd. Augusta ME.
In lieu of flowers, donations may be made to the American cancer Society, 1 Bowdoin Mill Island, Suite 300, Topsham, ME 04086