« Obituaries | Rachel Marie Gravel
Rachel Marie Gravel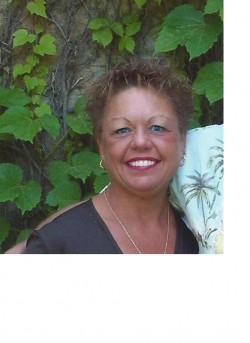 Date of Death: July 21, 2012
Date of Birth: November 4, 1956
Biography:
AUBURN – Rachel Marie Gravel, 55, of Auburn, died on July 21st, 2012 at the Hospice House.
She was born on November 4th, 1956 in Lewiston the daughter of Raymond and Carmen (Morin) Lagainere.
Rachel attended Edward Little High School and then went on to four years of college for dental hygiene. After school she worked in a shoe shop, then went on to own The Black Lantern for 12 years, followed by employment at Great Falls Dental as a hygienist, and finally she worked at Clover Nursing Home as a C.N.A.
She was a member of the Past Time Club; ACME Club; and the Basilica of Sts. Peter and Paul Church.
Rachel is survived by her beloved husband Anthony Gravel; brother Ronnie Lagainere; and several aunts and uncles. She was predeceased by her parents; several aunts and uncles; and sister-in-law Lorraine Lagainere.
Family and friends are invited to visit on Wednesday, July 25th, from  2PM to 4PM and 7PM and 9PM at Funeral Alternatives, 25 Tampa Street, Lewiston. A memorial Mass will be held at the lower chapel of the Basilica of Sts. Peter and Paul on Thursday at 11 AM. In lieu of flowers donations may be made to the Androscoggin Home Care & Hospice, 15 Strawberry Ave., Lewiston, ME 04240.