« Obituaries | Emerick Mick Gervais
Emerick Mick Gervais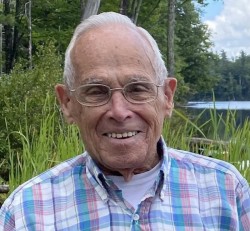 Date of Death: February 14, 2022
Date of Birth: March 24, 1928
Biography:
LEWISTON- Emerick "Emery, Mick" J. Gervais, 93, passed away February 14, 2022, at the home he shared with his daughter Linda and her husband Roger.
He was born on March 24, 1928, to Edouard J Gervais and Ida (Pelletier) Gervais in Madawaska, Maine. He was one of eleven children, and spent his childhood in Aroostook County growing up on the family farm. He moved to Lewiston as a teenager, and it is there that he met his future wife.  He married Rita "Kit" Therese Ouellette on September 16, 1946, and they had three children; James, Carol, and Linda. Mick and Kit celebrated 70 years of marriage just one day before Kit's passing in 2016.
Mick was a member of the local union and spent most of his career working as a carpenter and millwright. He was an avid outdoorsman, enjoying fishing and hunting. In his earlier years he spent much time at Moosehead Lake, riding his motorcycle, and snowmobiling.  After his wife's passing, he moved in with his daughter Linda.  He enjoyed their daily outings, grabbing a coffee at Dunkin Donuts or one of his loved cheeseburgers at Val's, going for long car rides, visiting with his family, tagging along on adventures with his granddaughters, and doing his word searches. Mick loved children and found no greater pleasure than time spent with his grandchildren, great-grandchildren, and great-great grandchildren. He had the patience of a saint and was lovingly referred to as the "yes man". He was a second father to his granddaughters Veronica, Heaven, and Autumn.
Mick is survived by a daughter Linda Tanguay Morneault and her husband, Roger; grandchildren, Tina Cote and her husband, Jeff, Veronica Deschenes and her husband, Rick , and Allysyn Gervais; great-grandchildren,  Amber Wolfe,  Heaven Farrington and her husband, Thomas, Autumn Morse, Rhys Cote, Cayden Coburn, and Avren Deschenes  and Zeus Ouellette; great-great grandchildren, Madison Farrington, Vada Whittaker, Lovelle Lundquist, Emerie Lundquist, and Beatrice Francko,   brothers, Eloi Gervais and his wife, Lucy, Levite Gervais and his wife, Diane; sister, Clemence Nadeau and her husband, Lucien.
He was predeceased by his parents; wife of 70 years Rita Gervais; children James and Carol Gervais; son in law Tank Tanguay; brothers, Normand, Philip, Richard, Conrad, Gene, Angelo Gervais; sister, Jackie Roy.
   The family wishes to thank the staff of Androscoggin Home Healthcare & Hospice for their care and assistance. In lieu of flowers, those who wish to remember Emerick in a special way may make gifts in his memory to Androscoggin Home Healthcare & Hospice, 15 Strawberry Ave, Lewiston, ME 04240.
Following cremation, a private committal ceremony will be held at St. Peter's Cemetery,  Switzerland Rd, Lewiston. A Celebration of Life will be held at a later date.